A Guide to Christian Spiritual Formation: How Scripture, Spirit, Community and Mission Shape Our Souls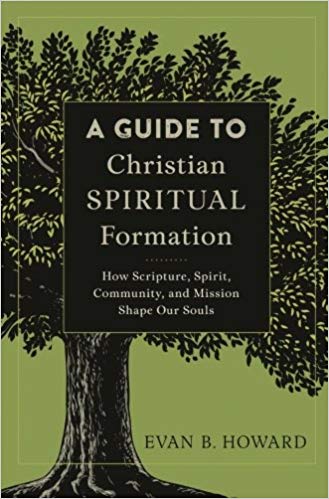 A Denver Seminary Book Review by Denver Seminary Professor of Training and Mentoring Debra Anderson
Evan B. Howard, A Guide to Christian Spiritual Formation: How Scripture, Spirit, Community and Mission Shape Our Souls. Grand Rapids: Baker Academic, 2018. $24.99. Paperback, 278 pp. ISBN: 9780801097805
Evan B. Howard has written a theologically established primer to define and facilitate spiritual formation amid today's various interpretations of what spiritual formation actually is. That is not to say that this is a basic text but it serves as a foundational text which artfully affords us all a place to begin. As Christian spiritual formation, in recent years, cuts its teeth in new denominations, ministries and communities, it is well served by a clearly written work which can become a bedrock, a place to moor the tousled ideas and practices and which can offer clarity while raising new, crucial questions. Howard has provided that steady place in a "no stone unturned" examination of what Christian spiritual formation can be and must mean for the people of God.
By starting with the "why," Howard moves the entire subject forward. Christian spiritual formation has suffered from some misconceptions, in part due to static writing which solely describes the "how," practice-heavy conduct which may or may not impart to a believer a sense of intimacy with God. But Howard adds a fresh focus on community and mission, writing dynamically to help spiritual formation encompass the whole of life based on his robust trinitarian theology.
The book's arguments blend together throughout the chapters, like ingredients in a meal which we can't wait to eat. Parts one and two offer solid basics and elements of Christian spiritual formation: definitions, a brief history, influences, and scriptural scaffolding. Howard systematically adds to the pot the essential features, aims, contexts, agents, process, task and means. At just halfway in, it has become a hearty stew with a depth of flavor. The reader finds that each chapter is one which the book cannot do without. Each grows his or her understanding that there are no short-cuts to formation, no ingredients which can be ignored. Being formed into the character of Christ means we must also be conformed to the "gospel and purpose of Christ" (p. 17). This requires the integration of agents (The Holy Spirit, humans, and self), contexts (culture, home, congregations, counter movements), and cultivation. A consistent declaration throughout the book identifies the aim of spiritual formation as joining God in making "all things new." Howard doesn't shy away from all things and continues the book by providing a mini-thesis on the aims, contexts, process and task of prayer, the depths of human experience, discernment, communal indispensability and missional goals. These last two comprise the book's most distinguishing feature.
Personal intimacy in Christ is only part of the goal of Christian spiritual formation. "Our formation as individuals and our formation as groups of people are deeply interwoven. Who we are is, to a large extent, who we are together" (p. 152). Howard leaves no room for self-reliant "practice pummeling." He asserts that we are formed in community, through hospitality and reconciliation, whether that community be congregational or networks of our self-directed choosing. Additionally, mission takes a further prominent seat as our formation is to be desired in and for the world. Howard notes, "Our task as we pursue formation into mission is to learn to see the world with the 'all things new' vision of God. We must see ourselves as partners with God in a formative, cooperative process of restoring creation to wholeness and holiness" (198-9). Where other books discuss formation as a relationship with God and a relationship with self, Howard takes it further to our relationship with the world and with our community or communities of faith.
As Howard relates the whole, grand narrative of Scripture, he demonstrates that transformation has always been the movement and mission of God. Not content to stop at the cross and redemption, the author discusses the import of the Spirit's restorative agency at all points in the process of formation. Howard offers a welcome and thorough treatment of the Holy Spirit's role in transformation (chapter 4), in mission (chapter 6), in prayer (chapter 7), in community (chapter 8), and in discernment (chapter 12). Christian spiritual formation is well-explained as a response to the influence and fullness of the Holy Spirit. Howard does give rightful space to Peter's instruction to "make every effort" to mature in one's faith, but he doesn't allow the reader's ego to get too involved before Howard brings us back to the tasks, the ministry and the recognition of the Spirit.
The strength of this book is in the clear and directive writing. Howard both anticipates and answers the reader's questions, creating new questions, using intriguing ideas (i.e. charism), and yet not making Christian spiritual formation so full that its weight is an encumbrance. Yes, this work is ponderous and thorough, but it is also freeing because Howard makes formation reachable. Readers won't get lost as the author guides the reader forward and backward through the work, telling you where he will take you and where you have already been thus far.
Who should read this book? A practitioner of spiritual formation in any form such as a mentor, teacher or spiritual director. Read Richard Foster's Celebration of Discipline or Adele Ahlberg Calhoun's Spiritual Disciplines Handbook for the "how" of the practices, but read this work for the "why" of the Spirit, of the church and of the missio Dei—each of which been at work to make all things new. Formation is God's creative and re-creative work and Howard gives God all the glory.
This schematic of spiritual formation is written from the soil up. Whereas other books start with the leaves, the fruit, Howard starts at the roots. From the narrative of Scripture to the Trinity to the contexts of formation, Howard gives a strong case for the ongoing work of the Creator God in his creation.
Debra Anderson, MA
Training and Mentoring Faculty
Denver Seminary
October 2018