A Redemptive Theology of Art: Restoring Godly Aesthetics to Doctrine and Culture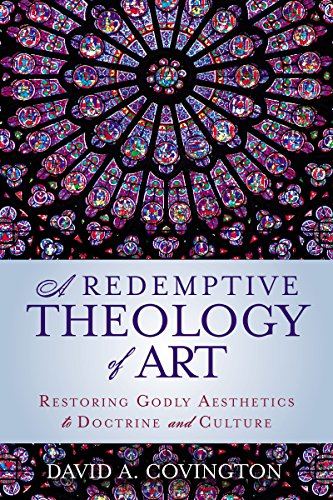 A Denver Journal Book Review by Denver Seminary Mentoring Director Dan Steiner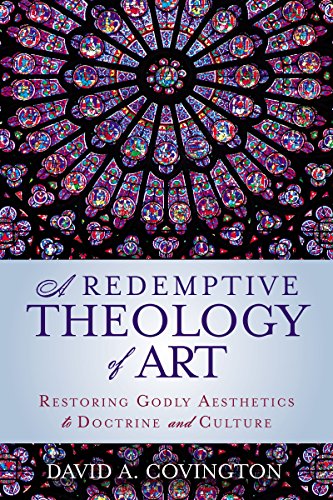 David A. Covington. A Redemptive Theology of Art: Restoring Godly Aesthetics to Doctrine and Culture. Grand Rapids: Zondervan, 2018. $24.99. Paperback, 240 pp. ISBN: 9780310534365.
There are a myriad of discipleship resources available for Christians who both want to be discipled and for those who want to disciple others. Covering broader topics related to theology, hermeneutics, and Christian living, David Covington's book, A Redemptive Theology of Art: Restoring Godly Aesthetics to Doctrine and Culture, is an important and needed addition to this ever-growing corpus of resources. At first glance, it may appear that this book is primarily for those with an appreciation for and fascination with art itself, either as an artist or an art enthusiast. That could not be further from the truth. While artists and art enthusiasts alike will be encouraged and challenged by the content of this book, it may be most appropriate for those who do not consider themselves artists or artistic.
The book's chapters flow from one to the other with well-constructed transition points and questions at the end of each chapter. Covington does a good job defining terms and establishing why his book is needed (chapters 1 and 2). The reader is informed early on that he will primarily use the term "aesthetic" rather than "art." Aesthetics is defined as, "a conversation between the maker's intention, the character and properties of the work, the impression made on the receiver's senses, and his affectional response" (p. 38, emphasis original). This is perhaps one of the most important points for the reader to understand. While it is possible to find references to art and artisans in the Bible, there is far more to find and draw from regarding the broader topic of aesthetics. As a result of this intentional focus upon aesthetics, Covington is able to locate more within Scripture to draw from for the topic at hand. By expanding the conversation to focus on aesthetics, he is able to help the reader see how Scripture as literature is in and of itself aesthetically beautiful. Rather than simply present a system of belief for Christians to either affirm or deny, or a set of principles to follow or disobey, Covington encourages the reader to expand their vision of what beauty is and what is beautiful. This affects the way the Christian will read Scripture itself as well as see and respond to the created world itself.
Covington demonstrates how the Bible is aesthetically beautiful as literature (chapter 3), and shows how the beginning of the Bible itself, Genesis 1-2, orients God's people to the aesthetic eye with which God sees all of creation (chapter 4). This aesthetic eye is not for God alone, though, for He invites people to behold the goodness and beauty of creation with Him: "Before the temptation, Adam and Eve's seeing included the full creaturely range of perceptions, judgments, discernments, appreciations, in co-participation with God. Autonomous, independent seeing changed that" (p. 68, emphasis original). This focus upon relationship, either with God or with others, is an emphasized theme throughout the book.
Chapter 5 unpacks Covington's observed triadic hermeneutic based upon what he sees in the form of Scripture itself, setting the table for the rest of the book. It is at this point that the attentive reader will sense the book's usefulness for hermeneutics. Rather than simply tell the reader what is aesthetic in or about Scripture, Covington invites his readers to understand how to read Scripture aesthetically. In particular, the triadic forms found throughout the Bible give weighty evidence to its aesthetic form. These triadic forms reflect God's glory. Covington observes, "Creation was formless at first, and the subsequent form God gave it consisted in time. Thus all human speech, which consists in time, gets its shape from God…Form, together with its aesthetic qualities, comes from God" (p. 84).
Chapters 6-8 focus upon sin's distortion of beauty. This distortion may diminish our ability to see exactly as God does, but it does not destroy this ability. Chapter 7 provides some useful categories for thinking through how this distortion takes place at a practical level: our vision becomes hijacked, whereby "private preference trumps all" (p. 98); our vision becomes fragmented, whereby "we separate aesthetic experiences from truth and from doing, expecting that each function independently" (p. 99); and our vision becomes darkened, whereby "the loss of transparency of everything seen by the infected eye, touches us everywhere" (p. 104). These distortions can lead Christians to redirect the aesthetic lens by delighting in things that are evil, "take pleasure in God's gifts without God," and "love ideals, principles, [and] excellence instead of God and neighbor" (pp. 114-15).
All is not lost, though, because of sin's distortion. The next three chapters focus upon the aesthetic cross (ch. 9) and the beauty of Christ Himself (ch. 10). Returning to the triadic forms discussed in chapter 5, Covington shows how Christ's life and ministry, offices of prophet, priest, and king, and the centrality of His order in the Trinity demonstrate that, "Indeed, he is fairest!" (p. 143). He continues on to a discussion in chapter 11 about the aesthetic effects of redemption in Christ. A redeemed aesthetic is more about how the Christian sees and interprets the many facets of life, others, and ourselves than it is about simply doing or not doing certain activities. This redeemed way of seeing thus affects how we see and respond to our surroundings, creation, society, the church, and even the future (pp. 156-64).
The final three chapters land the plane, so to speak, by offering insight into how a Christian with an aesthetic eye can faithfully see the world as God sees it. This will hopefully lead to a broader vision of how to not only faithfully see the world, but also faithfully respond to the world as compared to what took place with our unredeemed vision: "With our old eyes, we saw our passions, and all aesthetics, in a story of one chapter. We could ask only, 'Is this good or bad?' 'Do I like it or not?' 'Should everyone like this or not?'" (170). Instead of seeing the world in a binary fashion, Covington proposes that the Christian see according to the four-chapter narrative arc of the Bible—creation, fall, redemption, consummation. Ultimately this leads to a greater sensitivity to the Good Shepherd's voice (181), which will in turn open all God's people to see more closely as God sees.
While the subtitle of the book indicates a restoration of godly aesthetics to doctrine, the author is not as explicit about this in purely doctrinal categories. It will be helpful for the reader to have a working knowledge of systematic theology in order to know how Covington's thoughts can help lead to a more aesthetic understanding of Christian doctrine itself.
The reader who is looking for 5-steps-to-more-faithful-living will be disappointed by this book. The reader who is willing, though, to broaden their vision of what is good and beautiful, and consider either a new or deeper way to interpret Scripture, think theologically, and respond faithfully to the varied circumstances of life, will likely find this book to be encouraging and challenging to some degree. The reader will then need to do the work of reflecting on their own or in community with others to discern what it might look like to faithfully incorporate and integrate an aesthetic lens into their life and doctrine.
Dan Steiner, ThM
Mentoring Director
Denver Seminary
August 2018