Becoming the Gospel. Paul, Participation, & Mission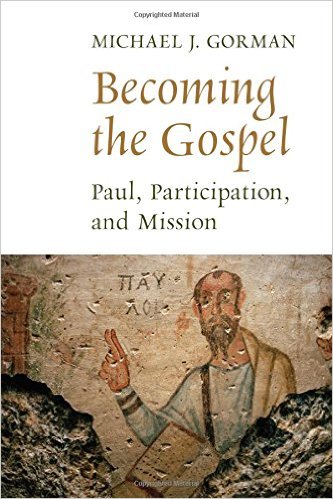 A Denver Seminary Book Review by Denver Seminary Professor of New Testament William W. Klein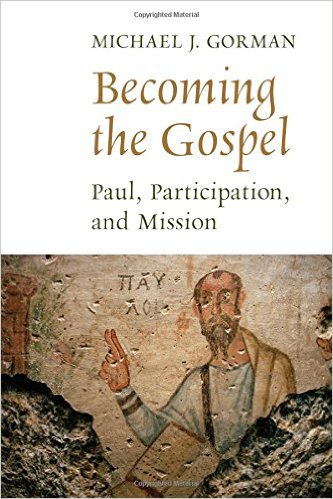 Michael J. Gorman. Becoming the Gospel. Paul, Participation, and Mission. Grand Rapids; Cambridge, UK: Eerdmans, 2015. 351 pages. Paperback. $28.00 / £18.99. ISBN 978-0-8028-6884-8.
Writing with elegance yet exhibiting uncommon erudition, Professor Gorman makes an important contribution to Pauline studies with this major work. Gorman holds the Raymond E. Brown chair in biblical studies and theology at St. Mary's Seminary and University in Baltimore. The book's title is apt for it captures Gorman's key contributions to the understanding of Paul's entire enterprise. He states the thesis of the book in this way: "… Paul wanted the communities he addressed not merely to believe the gospel but to become the gospel, and in so doing to participate in the very life and mission of God" (page 2). He embraces the term "theosis," that Christians become like God by participating in the life of God. And this, he continues, is Paul's starting point for mission, its theological framework. Gorman offers 2 Cor 5:21 as the book's "theme text" which he cites as "For our sake he made him to be sin who knew no sin, so that in him we might become the righteousness (or justice) of God." He emphasizes the important nuance of "justice" in rendering δικαιοσá½»νη throughout the book arguing that justification includes transformation, participation, and mission. Again, a quotation puts it succinctly: "… the cross of Christ reveals a missional, justifying, justice-making God and creates a missional, justified, justice-making people" (9). Paul expects the church to become the gospel with the result that its identity is inherently missional—its participation in the missio dei.
In chapter 1 Gorman explains his understanding of the mission of God in Paul's writings. Here he reveals his hermeneutical strategy for reading and exegeting Paul's letters: to grasp how they portray Paul's vision of God's mission in the world and God's people's participation in that mission. He will read Paul missionally and seek to discern the church's role in that mission. This chapter is very robust for Gorman explains not only how he views the mission of God in Paul but also how he understands salvation as participation. Another quote: "participation is ultimately about action—about being God's (cross-shaped, Christlike) weaponry and agents in the world" (27). He defends this understanding with seven interrelated linguistic and theological features he finds in Paul's letters.
Chapter 2 contains Gorman's explanation and defense of his hermeneutical strategy of reading Paul missionally. He states clearly that he is not interested merely in what Paul was doing back then, but importantly, how we can discern our role in the divine mission that Paul envisions. The chapter is richly documented citing many biblical scholars and missiologists. Surveying various approaches to a missional reading, he defends the approach he will take in his subsequent exegesis of Paul's letters. His goal here is to determine the types of questions one should ask when reading the Bible missionally, again, what Paul says about the missio dei but also what that means for our participation in it. For Gorman the crucial question when reading Paul is "How did Paul expect his communities to participate in the missio dei ?" along with its necessary corollary: "How does God expect us who read Paul's letters to participate in the missio dei ?" (58). The task of the church is not merely to believe the gospel but to become the gospel and thus to advance the gospel "through proclamation, praxis, and persecution (i.e., suffering)" (61).
Chapters 3 through 8 consist of Gorman's exegesis of Paul's letters in defense of his thesis. The chapter titles are telling:
Becoming the Gospel of Faith(fulness), Love, and Hope: 1 Thessalonians;
Becoming and Telling the Story of Christ: Philippians;
Becoming the Gospel of Peace (I): Overview;
Becoming the Gospel of Peace (II): Ephesians;
Becoming the Justice of God: 1 & 2 Corinthians; and
Becoming the Gospel of God's Justice/Righteousness and Glory: Missional Theosis in Romans.
Much could be written about what he discovers in each of these chapters, but I will have to leave it to readers to engage in these very instructive analyses. His exegesis is persuasive, and his conclusions are convincing. He concludes each of the chapters with discussions of some implications of Paul's missional perspective for the contemporary church, often citing specific examples of where he has witnessed Christian churches or organizations doing precisely what Paul envisioned.
The book ends with some final reflections, essentially a reprise of his thesis and main conclusions. He denounces the all-too-common privatistic and individualistic understanding of the gospel; we need Paul's robust gospel. He says, "But a thick, robust understanding of the gospel involves an equally complex and comprehensive perspective on salvation and the missio dei "(298). And that complex view is a cruciform one, the church as a countercultural or alter-cultural community, faithful to the point of suffering as was Jesus. Here he draws upon the rich insights from the preceding chapters where he analyzed individual epistles. Gorman closes the book with Paul's prayer in Eph 3:14-21 insisting that this is the prayer of the church that wants to become the gospel.
Scholars of Paul have long debated what might be the "center of Paul's theology" or of his overall agenda, if any. Is it justification by faith, salvation, eschatology, anthropology, incorporation in Christ, reconciliation, or some other construct? Gorman has given readers a compelling case for seeing mission as that center. Surely he has shown that if you use the missio dei as the lens for reading Paul you will encounter a profound understanding of the nature of the gospel and a compelling identity and raison d'être for the church. I highly recommend this book.
William W. Klein, PhD
Professor of New Testament
Denver Seminary
August 2016