Christian History in Seven Sentences: A Small Introduction to a Vast Subject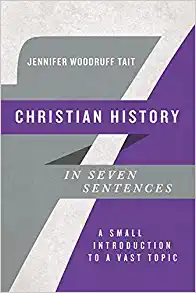 Jennifer Woodruff Tait, Christian History in Seven Sentences: A Small Introduction to a Vast Subject. Downers Grove, IL: Inter-Varsity Press, 2021. pp. xi, 169. ISBN: 978-0-8308-5477-6, $18.00.
Although the United States was created in 1787-89 out of thirteen disparate colonies loosely organized under The Articles of Confederation, contemporary Americans often present themselves as an ahistorical collection of diverse cultures, ethnicities and even religions. From the earliest decades of the seventeenth century up to the present, we've eagerly forsaken the past to focus on the future. This inclination may be especially true of that branch of the American Church known as Protestantism. Our roots go back to the sixteenth century but apart from a fading awareness of Martin Luther nailing his 95 Theses to the door of the church at Wittenburg, most of us in the Protestant camp have little historical knowledge of the Faith. The various ecclesiastical, social, and institutional causes of this historical amnesia have been – and continue to be – lamented and debated by those of us who love Clio. But this intentional neglect of Christian history can only be directly addressed by new and vigorous attempts to reveal the riches of our tradition. Fortunately, Jennifer Woodruff Tait has done exactly that in her superlative new book Christian History in Seven Sentences.
Tait serves as a priest in the Episcopal Church and as an adjunct professor at Asbury Seminary but her academic expertise resides in the history of Christianity. She earned a PhD at Duke and eventually became the managing editor of Christian History Magazine, a wonderful resource that is part of Christianity Today International. Given all that, it's not surprising that Tait brings a sharp intellect, vast knowledge, and a superb writer's touch to bear in this book. She clearly describes the development of Christian history over twenty centuries in a succinct manner but with an erudition, wit and style seldom found in most writers of church history.
Christian History in Seven Sentences is part of IVP Academic's Seven Sentences series, which Denver Seminary's own Dr. Doug Groothuis kicked off in 2016 with his Philosophy in Seven Sentences. The series is designed to open doors to specific and sometimes challenging subjects in a winsome and informative manner. Tait succeeds brilliantly in doing just that in this notable little volume. Her starting point is a sentence from Constantine's Edict of Milan (313 A.D), a somewhat surprising place to begin a survey of Christian history. But she demonstrates her historical acumen by quickly taking the story back to the early church and its growing confrontation with Rome. This paves the way to that famous – or infamous in the minds of some – Edict and sets the stage for the other six sentences. These proceed to cover the history of the Faith from the Nicene Creed (325 A.D.; the second sentence) up to the Second Vatican Council (1962-65 A.D.; the seventh sentence).
A novice in church history might not know or understand the specific sentences on which Tait has chosen to structure her book. But that should not inhibit anyone from reading it! Her breadth of scholarship and free flowing prose make each chapter accessible, understandable, and informative. For example, sentence three comes from the Rule of St. Benedict (c. 530 A.D.). In my opinion this was a brilliant choice because it allows her to move thru the various nuances of monasticism and provide an engaging overview of the early medieval era. Sentence four caught me by surprise; it's a statement from the papal excommunication of the Patriarch of Orthodoxy, Kerularios, by Cardinal Humbert in 1054. But as I read the chapter it made perfect sense. This dramatic act formally separated the Church into its Eastern and Western branches, something Tait demonstrates was a long time in the making. Sentence five comes from Luther's Ninety-Five Theses (1517), leading to a fine summation of the Protestant Reformation with a little discussion of the Catholic Counter-Reformation thrown in for good measure. And to set the stage for her discussion of Christianity in the post-Reformation era, Tait chose a sentence (#6) from the Edinburgh Missionary Conference of 1910 ("The church is confronted today, as in no preceding generation, with a literally worldwide opportunity to make Christ known"). As she demonstrates, this statement was one of the building blocks for the globalization of the Faith that occurred in the 20th century and which continues on into our own. Finally, as noted earlier, she ties the bow on her Seven Sentences with an extended discussion of the Roman Catholic Church's efforts to engage modernity at the Second Vatican Council (1962-65).
Book reviews are, by nature, designed to inform and critique. For what it's worth, I found the latter a bit of a challenge as it relates to this little volume! Nonetheless, I do have a few quibbles. For starters, I'm not convinced that Constantine's role in church history was either as dominant or as negative as Tait seems to imply. The church was already a mirror image of the Empire before he arrived on the scene and the lesson of the Diocletian persecution was that Christianity couldn't be eradicated. Given that, Constantine's role in its establishment seems less significant than is often argued. Second, I think we could do without her brief summation of 'modern monks' (pp. 58-59). Given the importance of monasticism in church history, I'd have preferred a discussion of Bernard of Clairvaux in place of Thomas Merton or Shane Claiborne. And, last but not least, Tait's heavy emphasis on Vatican II left this committed Protestant hungering for a discussion of Billy Graham. But in a book limited by seven sentences, these criticisms are minor in view of its overall excellence.
A while back a good friend asked what books I'd recommend for pastors interested in church history. Without hesitation I replied, 'The new, fifth edition of Church History in Plain Language and Jennifer Woodruff Tait's Christian History in Seven Sentences.' I stand by those recommendations for readers of The Denver Journal as well. The former, authored by Dr. Bruce Shelley, is the standard textbook here at Denver Seminary. But Tait's smaller and more succinct account of this marvelous subject is worthy in its own right. My hope is that all who have the opportunity to read it will enjoy it as much as I did.
Scott Wenig, PhD
Professor of Applied Theology
Haddon Robinson Chair of Biblical Preaching
Denver Seminary