Clyfford Still Museum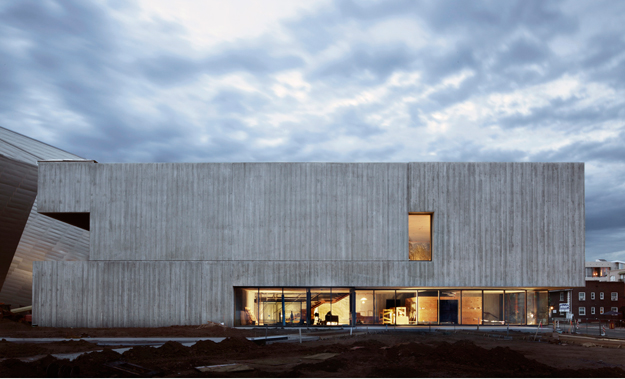 A Denver Journal Book Review by Denver Seminary Professor Dr. Doug Groothuis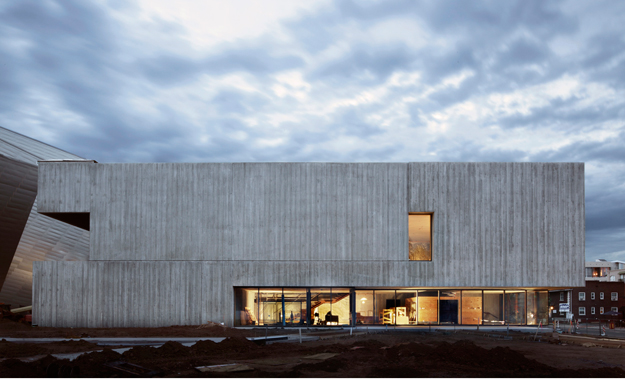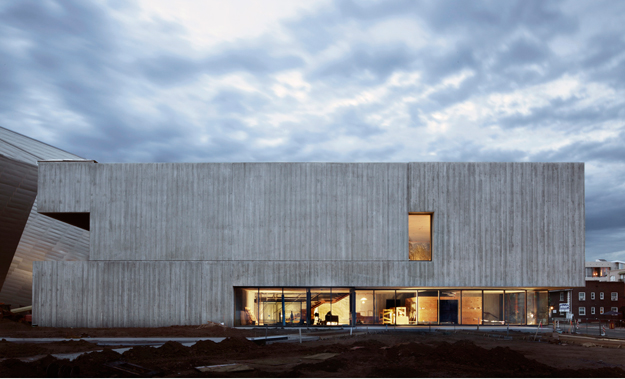 Allied Works Architecture, Clyfford Still Museum. Ostildern, Germany: Hatje Cantz, 2013. 109 pages. This book is available for purchase at The Clyfford Still Museum in Denver.
We often miss subtleties—even those beckoning before our blinkered eyes. But without attending to the shy profundities, without disciplining our senses and minds to contemplate the commendable, the sublime must remain opaque and forever obscure. The subtle (which is gatekeeper to the sublime) is, by definition, inconspicuous, and our culture gorges itself on the obvious, the garish, the melodramatic, the oversized, the overstuffed, the spectacular, and the impossible-to-miss. Our odd age is overstimulated and undernourished; saturated and starved; consumptive and emaciated. Art seems impossible. But this is not true. There is yet a remnant, because God is not dead.
Denver, Colorado won a significant, if not celebrated, nation-wide competition in 2004. This achievement had nothing to do with sports or politics; nor did it concern federal grants, loans, or special favors from tax payer funds. The contest was for the unique privilege of building a museum dedicated uniquely to numerous works of painter, Clyfford Still (1904-1980). Although I had visited the Denver Art Museum (DAM) many times, I had always been oblivious to the smaller and less ostentatious stone structure behind it, which is the Clyfford Still Museum; that is, until a friend came into town with the mission of visiting this museum. While the DAM greets the eyes with its well-crafted oddities (particularly the newer wing), the Still Museum, from the outside at least, is more subtle—even unassuming—without being faintly prosaic.
Rather than writing too much about Still's work in itself, let me muse more on the meaning of museum. Still was a modernist painter, whose vast body of work moved from representation to abstraction (to use oversimplified terms). Like several American modernist painters, Still often painted on huge canvasses, which wield a commanding presence—taking up so much of one's visual field and space on a museum's wall. While some critics place his work in the "abstract expressionist" category, Still's paintings little resembled them, except that in his later work he did try to represent recognizable objects. He has little in common with Jackson Pollack (1912-1956) or Wilem de Kooning (1904-1997), for example. While some of Still's sensibilities are similar to those of Mark Rothko (1903-1970), they are miles apart in conception. No one knowledgeable of the painters would confuse one with the other. Still said this about his work:
These are not paintings in the usual sense; they are life and death merging in fearful union. As for me, they kindle a fire; through them I breathe again, hold a golden cord, find my own revelation. (Quoted on the last page of Clyfford Still Museum.)
The man took his painting seriously; it was his life's work. What Still meant by "find my own revelation" is, though, open to question. Of what does the revelation consist and where does it point? Perhaps these things remain somewhat hidden in the life and art of Clyfford Still. But his paintings are no longer hidden.
Let us consider the museum. At his death, Still left a cornucopia of works never shown publicly. Having fled the trendiness and irascibility of the New York art scene to find solace in a rural setting, Still painted without the intense pressure to compete or to please the market. His final retrospective, exhibited as he was dying of cancer, was expansive and memorable. Yet so much of his work seemed buried along with the artist, year after year. But this is not so. Still arranged that his unshown art would be displayed in a new museum, one designed specifically for his paintings. (The first floor features some personal belongings, such as his typewriter, photographs, several letters, and so on. One can also arrange for viewings of his other personal effects.) This could be taken as egocentric or, at least, eccentric. If it were Picasso, that interpretation would be apt, given his narcissism and bravado. But Still took another approach, which was more holistic than egocentric.
Many (or likely all) painters consider the quality of their works in relationship to the environment in which they are displayed. That is, a painting (or other visual art object) is not atomistic, a thing by itself alone. It shares a space which helps define what it is. Many artists are just as concerned with how their pictures are hung as they are with the paintings themselves. An author does not care where his books are put (as long as it is not in the garbage or in the sewer or used for a doorstop). Painters, on the other hand, know that their chosen canvasses, paints, layering, strokes, and other techniques manifest their aesthetical qualities differently in different settings. Being aware of this, I recently asked a painter in Newport, Oregon, what kind of light she preferred for a particular painting. It was placed in mostly natural light with some illumination from the artificial light of the small gallery on the bay. To my surprise, she said "Either one. Each brings out something different in the piece." Not so for Clyfford Still, whose paintings were created to be placed in natural light. The museum brilliantly answers this request with its open ceilings.
But lighting was only part of the aesthetic that Still desired. The surroundings needed to compliment his works in texture, color, and through the use of space and the placement of paintings in patterns. It is all quite remarkable for several reasons.
First, few museums on earth fit the artist's exact desires for how their own work should be displayed. This feat requires that the architect possesses extreme sensitivities and broad knowledge of the painter's oeuvre. In marvelous detail through text and photographs, the book reports on the museum's construction and finished state. Reading the architect's account of how the museum was designed and built in relation to Still's requests is a fascinating exercise in aesthetic symbiosis. With so much of modern culture being mass-produced, ad hoc, and randomly-associated assemblage (think of a collections of adjacent stores or materials within stores), a space set apart for the life's work of one distinctive artist is a marvel of single-mindedness in a double-minded, triple-minded, and (too often) mindless culture.
Second, Still's work—while lauded by many art critics—is less well known than some of his peers, particularly Jackson Pollack and Mark Rothko. Still avoided the spotlight and preferred the solitary pursuit of his craft, despite his considerable status in the art world. For an artist of this caliber and character to bequeath such a museum is both rare and remarkable. It is a gift to be received and savored, not consumed.
While this book offers nothing overtly theological, it resonates with the themes of spiritual contemplation. The Bible teaches that God designed both the Temple and Tabernacle, instructing men to build it according to their skill. Nothing was thrown together; there was no disharmony. Nothing was ad hoc about these sacred structures, but neither were they created by automata. Rather, men applied their skills in bringing forth the divine design, with each part in its proper place. (See Francis Schaeffer, Art and the Bible [InterVarsity Press, 1972].)
The Book of Hebrews reveals that Jesus Christ, the divine Messiah, has fulfilled the Old Covenant's architectural requirements for worship. But this by no means implies that architecture is irrelevant for worship, since God remains the same and because the themes of redemption (creation, fall, redemption) have not expired. Further, Jesus himself said that our place of worship is less important than the manner of worship, "in spirit and in truth" (John 4:23). Nevertheless, being made in the image and likeness of God, we need coherent meaning and beauty for human flourishing. Too much of this fallen world is, to use a fun British phrase, "higgledy-piggledy," shattered, scattered, and battered without genuine pattern. Or, if a pattern is imposed, it is little less than a theme park, pre-arranged kitsch. To find this unity of structure and painting, painter's intent, and architect's execution is nearly unheard of.
The book itself is aesthetically and conceptually rewarding. It features numerous photographs and sketches of the museum. These are accompanied by two illuminating essays: "Still Pace: Tactile Density and Striated Light in the Clyfford Still Museum," by Robert McCarter, which begins the book, and "The Limiting Field," by Brad Clopfil, the building's architect, which ends the book. In between these essays we find the graphic material organized into these chapters: Site, Structure, Rooms, Light, and Material.
Those interested in aesthetics in general, as well as students of painting and architecture, will find this book a rare and subtle delight. And this, too, is a gift from "The Father of the heavenly lights" (James 1:17).
Douglas Groothuis, PhD
Professor of Philosophy
Denver Seminary
November 2014