Coming Out Atheist: How to Do It, How to Help Each Other, and Why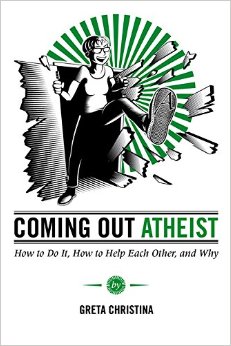 A Denver Journal Book Review by Denver Seminary Professor Dr. Douglas Groothuis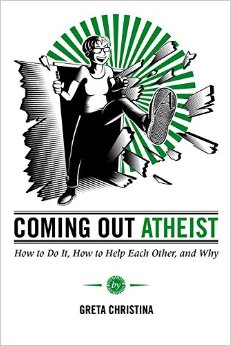 Greta Christina, Coming out Atheist: How to Do It, How to Help Each Other, and Why. Pitchstone Publishing, 2014. Paperback. 439 pages. ISBN-10: 1939578191, ISBN-13: 978-1939578198.
Most everyone is coming out now. Closets are emptying. Personal revelations abound. Shame is shunned and scorned. Guilt is gone. Non-heterosexuals (now of all sorts) have left their closets behind. So, too, atheists must follow in their inglorious train. Atheists are, to this author, in the ascendant, thanks to The New Atheism initiated by the likes of Richard Dawkins, the late Christopher Hitchens, and Sam Harris. They secured the beachhead through their assault on religion. Now, from the strategic position, the troops want to gain ground by claiming that atheism is not only true, but is a good and healthy way of life—despite all the religionists still afoot. Coming out Atheist by Greta Christina is part of this assault, as are other books advocating atheist spirituality, such as Sam Harris's Waking Up. But why read—or at least be acquainted with—this book if you are a Christian?
Too many books are written (especially since the self-publishing explosion); thus, many books should be left unread. Good books should be read; but, some bad books should be read also, because of their influence on hearts, minds, and cultures. Coming out Atheist is a bad book—exceedingly and abundantly bad. It is verbose, glib, and unpolished in extremis. One sentence paragraphs abound. The narrative voice is overblown and annoying. Worse yet, atheism is not only endorsed, but godlessness is encouraged as a confession of identity. But this book is passionate and, in a strange sense, pastoral; and it is, perhaps, the only book of its kind. Christians are called by God to be prepared to offer a reason for the hope that is within us, and to speak the truth in love (1 Peter 3:15-16; Ephesians 4:15). Thus, we should consider its message and reflect on how to counteract it with gentleness and respect.
The author's Amazon biography tells us that "Greta Christina has been writing professionally since 1989, on topics including atheism, sexuality and sex-positivity, LGBT issues, politics, culture, and whatever crosses her mind." She has come out as an atheist and as an advocate of "sex positivity." "Polymorphic perversity," a felicitous phrase from Freud, captures this beast best. These two outings are not unrelated. While the LGBT outings were choreographed first, they depend on the destruction of religion.
All the world's religions affirm heterosexual marriage as God's design for human sexuality and procreation. Islam condones polygamy and monogamy. A man may have up to four wives. Judaism and Christianity sanction only monogamy. To subvert this authority, the antagonists must deny the religions entirely (as in atheism) or redefine religion in order to endorse what they prohibit (as in "welcoming and affirming" churches). To "come out" means to come away from the Judeo-Christian heritage—that which shaped Western culture more than any other force. (For the arguments to support this claim, see Rodney Stark, How the West Won and The Victory of Reason.)
LGBT adherents can draw on literature promoting the psychology of being to reveal who they are and make their orientation known. Among the cultural elite, the burden of proof is now on those who deny same-sex marriage and LGBT activities. Christina's goal is to learn from the LGBT movement and apply its insights to atheism's cause.
Although she often castigates religion, Christina does not argue against it. For her, the atheist arguments have closed that case. She is rather an "atheist activist," part of what she calls "organized atheism." (These phrases indicate both the seriousness of her mission and the greater significance of the movement.) Movements need movers and members. They must take a public stand. They must come out. To that end, Christina covers nearly all angles of strategy. This includes how to tell your religious friends and parents, when to come out, how to find fellowship with other atheists, how to manage divorces from a Christian when child custody is involved, and more. She is, if nothing else, thorough.
This book is thick with insider strategy for the atheist. However, Christians should be prepared for their friends, family, and even clergy to come out. A number of pastors have come out atheist. Some have started their own nonreligious churches. The Book of Hebrews declares that only the unshakeable will stand in the end.
See to it that you do not refuse him who speaks. If they did not escape when they refused him who warned them on earth, how much less will we, if we turn away from him who warns us from heaven? At that time his voice shook the earth, but now he has promised, "Once more I will shake not only the earth but also the heavens." The words "once more" indicate the removing of what can be shaken—that is, created things—so that what cannot be shaken may remain.
Therefore, since we are receiving a kingdom that cannot be shaken, let us be thankful, and so worship God acceptably with reverence and awe, for our "God is a consuming fire" (Hebrews 12:25-28).
Coming Out Atheist marks a disturbing stage of atheism as a contemporary movement. Atheists are gaining traction as they strategize to confess their unbelief in savvy and safe ways. Nevertheless, Jesus promised that "the gates of hell will not prevail against the church" (Matthew 16:18) no matter the fate of insurgent atheism in our day.
Douglas Groothuis, PhD
Professor of Philosophy
Denver Seminary
January 2015