Conversion in Luke-Acts: Divine Action, Human Cognition, and the People of God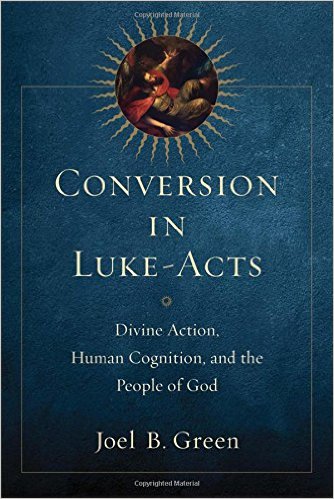 A Denver Seminary Book Review by Denver Seminary Distinguished Professor of New Testament Craig L. Blomberg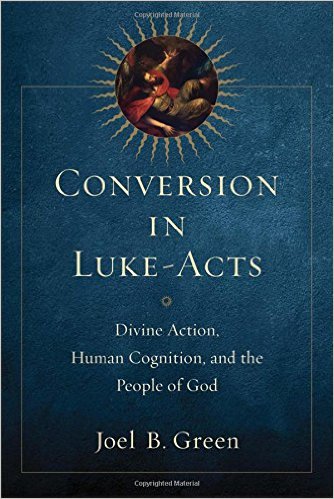 Joel B. Green, Conversion in Luke-Acts: Divine Action, Human Cognition, and the People of God. Grand Rapids: Baker Academic, 2015. 208 pp. $25.00. Paperback. 1SBN 9-780801-097607
Joel Green, dean of Fuller Seminary's School of Theology, New Testament professor and prolific author, is nothing if not ambitious. This book reflects interdisciplinary study and a considerable mastery of a large volume of literature in the neurosciences on top of biblical interpretation and exegesis. Green is already well known for his work on Body, Soul and Human Life (2008), in which he argues for non-reductive physicalism. Here he applies this perspective to Luke's understanding of conversion in Luke-Acts. Combining exegetical insights on the embodied nature of human transformation and neuroscientific discoveries about how brain shapes and the configuration of its parts change as people change, Green argues for conversion as a process, even a journey, that requires transformed behavior, and that is never complete in this life. This fits nicely his Methodist-Wesleyan heritage and his conviction that genuine believers can, tragically, choose to genuinely deconvert from their Christian faith as well.
In the Hebrew Scriptures a major part of conversion is turning away from idolatry. 1 Thessalonians 1:9-10 fits this emphasis to a tee, only Paul applies it to a predominantly Gentile Christian church. Yet, while many today would want to call Paul's (and other Jewish Christians') experience of "coming to Christ" as a mere call within or completion of their own (Jewish) traditions, if conversion is more a turning to a new (religious) way of life, then even these individuals may fairly be said to have converted.
Luke 3:1-18 sets the tone for Luke's two-volume work, with its reuse of the new exodus motif of Isaiah 40-55. John's baptism embodies the conversions of the people undergoing them, just as water is an almost universal symbol for cleansing. The newly baptized are incorporated into the community of John's followers and are taught the forms of ethical living appropriate to the new community. These elements similarly demonstrate the embodied nature of Christian conversion. Based on this text, Green formulates a provisional definition to be tested throughout the rest of his research: "Converts are those who have undergone a redirectional shift and are now on the move with the community of those faithfully serving God's eschatological purpose (p. 87).
Green proceeds to survey Jesus' call to the fishermen, especially Simon, in Luke 5:1-11, noting how his transformation is a process, still being substantially altered as late as Acts 10, when he comes to realize that God has declared all people clean. Over the course of his work, Luke portrays this process a conversion from darkness to light, from crooked to straight, from outside to inside, from filthy to clean, and from life to death. The power of these metaphors to draw people away from one set of commitments to another as well as to label what they have already experienced should never be underestimated.
The call of Levi in 5:27-32, like Zacchaeus' radical conversion story in 19:1-10, illustrates similar patterns. Luke 15-16 joins with these passages to show the importance of hospitality and the stewardship of possessions by the truly converted. A life of service is not an optional extra for the convert; it is the sign of the truly converted. The proliferation of language of seeing and hearing God's word and proper Christian models furthers the theme of embodied living.
Just as the crowd asked John, "what should we do?" (Luke 3:10), so too Peter's Pentecost audience asks him the same question (Acts 2:37). The same cluster of themes about baptism, purification, hospitality, stewardship, all in community and animated by Christ and the end times he is ushering in, characterize the aftermath of this message as well. The theme of journey recurs throughout Acts just as it did in Luke.
If conversion is an incomplete journey in this life, however, it makes it plausible to envision the journey being interrupted or even aborted. Green, therefore, turns to deconversion as his book winds down. He argues for this as a very real possibility on the basis of the two intermediate soils in the parable of the sower (Luke 8:4-8), the example of Judas who followed Christ intimately until the end and then betrayed him for money. The cases of Ananias and Sapphira (Acts 5:1-11), like that of Simon Magus in 8:5-24 further bolster Green's case for a certain insecurity of the believer. He therefore adds to the end of his previous tentative definition of conversion that we quoted, "as this [purpose] is evident in the life, death, and exaltation of our Lord Jesus Christ, and whose lives are continually being formed through the Spirit at work in and through practices constitutive of this community" (p. 163).
It is unclear how necessary the book's discussions of neuroscience are to its argument. Maybe Green would not have thought of producing this kind of study without them, but the exegetical sections stand on their own. The idea that baptism, piety and good works, especially in financial matters, is normally (even if not quite normatively) done in community and represents personal and corporate embodiment is scarcely a novel thought. To the extent that the scientific studies show one way to harmonize science and Scripture on this topic, then the attempts at cross-disciplinary integration were important. I am less persuaded by the overall exegetical basis of non-reductive physicalism and, as one of its corollaries, the explanation of all near-death experiences as produced by the person's own brain who is undergoing one. Some, perhaps? But people in whom no vital organ functions or brain waves are detected for an unusually long period of time and yet are resuscitated or who learn about things during their NDE that they could not possibly have known in any other way are harder to explain as merely sophisticated psychological constructions.
Neither am I convinced that Zacchaeus customarily gave half of what he earned to the poor, nor that Ananias and Sapphira forfeited their salvation just because God judged them by instant death for their lies. Even if the rest of the believers in Samaria were truly saved, I find it hard to imagine Simon as similarly converted at the time he tried to buy the Holy Spirit's power, especially in light of Peter's strong rebuke: "May you and your money go to hell!" (Good News Translation). As for the parable of the sower, the only reason a farmer plants certain seeds is so that they might produce the crop for which they are grown. Parables with multiple subordinate elements typically build to a climax with all the first ones contrasting with the last. Both of these points make it unlikely that the seed that fell on rocky soil or the seed that fell among thistles should be thought of as true believers. As for Judas, Green notes but fails to comment on Luke's own observation that Judas turned aside to go to his own place (Acts 1:25), the place where he belongs, his true home, not something appropriately predicated of one who was ever a true believer. Deconversion seems rampant in our 21st-century Western world and we need to account for it but I think it is more due to the superficial and even misguided way we present the gospel than a blow to "eternal security."
The main theses of the volume, nevertheless, seem unassailable, making this an important new book.
Craig L. Blomberg, PhD
Distinguished Professor of New Testament
Denver Seminary
July 2016