Daniel: The Story of God Bible Commentary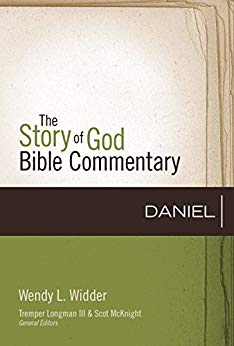 A Denver Journal Book Review by Denver Seminary Professor of Applied Theology and Biblical Preaching Scott Wenig
Wendy L. Widder, Daniel: The Story of God Bible Commentary. Tremper Longman III & Scot McKnight, general editors. Grand Rapids: Zondervan, 2016. pp. xviii, 264. $29.99. ISBN: 978-0310491293.
By all outward appearances, evangelicals seem to be dominating the field of biblical studies. This can be seen in their expanding publication of innumerable works in the discipline, particularly in the prodigious output of new commentaries. This one on the book of Daniel by Wendy Widder helps to illustrate why scholars from the conservative wing of American Protestantism have taken over in this realm of the academy. As one of the latest contributions in the Zondervan sponsored The Story of God Bible Commentary series, Dr. Widder's volume combines outstanding academic research with an enviable style of prose. She has taken a book that is often perceived to be an enigmatic relic of the Old Testament and made it accessible for the general reader as well as the more seasoned scholar. By combining insights from Daniel's experience in ancient Babylonian society with a clear exposition of the stories and visions of his life, Widder has given us a resource that not only shows how the message of Daniel fits into the larger story of Scripture but how its theological truths can be effectively communicated to contemporary congregations.
The structure of this commentary follows the guidelines laid out by the general editors of the series in a brief proto-introduction (pp. xiii-xvi). They explain that their singular approach is to "Listen to the Story, Explain the Story and Live the Story". As this is done, they hope that each volume, including this one, will point towards Christ and His ministry of redemption. Quoting Augustine, they note that,
"the New Testament is in the Old Testament concealed, the Old Testament is in the New Testament revealed." We believe that this … will be particularly important for our readers who are clergy who want to present Christ even when they are preaching from the Old Testament (p. xv).
While I'm not a proponent of this particular hermeneutical and homiletical approach to the Old Testament, I think it fair to say that Dr. Widder did her best to follow the general guidelines without ever violating the principle of authorial intent. She is particularly good at explaining 'the Story' and demonstrating what the specific text under study is trying to communicate. For this, she is to be soundly commended.
As all readers and commentators on Daniel recognize, the book presents some unique interpretative challenges because of its unusual literary make-up. It begins with six historical narratives that cover almost seventy years of Hebrew exile in Babylon which are followed by another six chapters that are apocalyptic in nature. Moreover, the book was written in both Hebrew and Aramaic making it formidable to translate. Those who study, write and teach from it must navigate these various elements in an effort to discern what God was doing with His people during that difficult time in their history as well as what that meant for their future. With great patience and care, Widder skillfully guides her readers through both the historical contexts and prophetic visions of Daniel while providing significant theological insights along the way. Time and again she demonstrates her academic and pastoral expertise by her analysis of the texts of Daniel and how they apply to today's believers.
Perhaps of greatest importance, Widder's interpretation of Daniel shows that God is always sovereign and slowly but surely working out His plan of redemption in human history. In one of the many contributions of this commentary, she argues quite effectively that this story of restoration was—and is—much more complex, nuanced and further out in history than we usually think. The God portrayed in Daniel is not only omnipotent and omniscient but also mysterious in his dealings with believers and unbelievers alike. He allows His people to suffer grave persecution (chapter 7) but also rescues them from angry kings, fiery furnaces and hungry lions (chapters 2, 3 and 6). He allows evil rulers to arise, seemingly abetted by malevolent spiritual forces (chapters 10-12) but promises to extend His kingdom over the whole earth (chapter 2). And He is not a God to be taken lightly or trifled with as the notorious and blasphemous King Belshazzar of the Babylonians (chapter 5) discovered to his own demise!
Another of the more interesting interpretations that Dr. Widder offers is her belief that the final human kingdom of Nebuchadnezzar's dream in Daniel 2 reflects the events following the breakup of Alexander the Great's empire in the late 4th century B.C. Her argument is based on the consistent representation of the Seleucid monarchs, most clearly the notorious Antiochus IV Epiphanes, as the evil beasts who persecute God's people (chapters 7 and 8) and then wage war against the Ptolemies in an effort to take over the Promised Land (chapters 10 and 11). I've worked on the book of Daniel for over thirty-five years, always interpreting the last kingdom in Daniel 2 as referring to the Roman Empire. While I'm not sure I agree with the author's overall assessment, it does have some logical and historical reality on its side. Obviously, there has to be some give and take in the interpretation of these apocalyptic texts and Dr. Widder is to be commended once again for laying out her views and why she holds to them. This is what commentators are supposed to do!
Given the proliferation of biblical commentaries I doubt that this one will be the last word on Daniel. There is no question, however, that Dr. Widder has made an important and valuable contribution to the study of this great Old Testament book. Her knowledge of the original text as well as her interaction with other commentators and historical works is exemplary. As someone who loves to study, preach and teach from Daniel, I want to highly recommend this outstanding commentary to all the readers of The Denver Journal.
Scott Wenig, PhD
Professor of Applied Theology
Haddon Robinson Chair of Biblical Preaching
Denver Seminary
January 2019