Ecology of Vocation: Recasting Calling in a New Planetary Era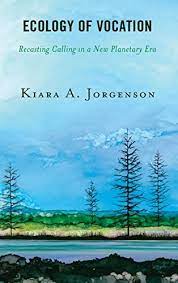 Jorgenson, Kiara A. Ecology of Vocation: Recasting Calling in a New Planetary Era. Lanham, Maryland: Lexington Books/Fortress Academic, 2020. $39.99. Softcover, 177 pp. ISBN 9781978700239.
What Dr. Jorgenson and I have in common is our love for God, God's creation, and justice or righteousness (although we live out these commitments in ways that might seem incompatible to those for whom love of God is not the foundational commitment). I am privileged to have taught Greek to Kiara almost 20 years ago; we have remained good friends, even chosen family, since then. She sent me an inscribed copy of Ecology of Vocation, which I was happy and excited to read. I am not an ecofeminist, a Church historian, or even a theologian. Dr. Jorgenson and I differ markedly in our politics, church affiliation, and stage in life, but I am grateful for her passionate invitation to pair ecology with the doctrine of calling. It is good to read stretching books routinely. It is good to be stretched to agree, to disagree, and to find some common ground for the sake of our planet.
The introduction helpfully provides a roadmap for the rest of the book, as well as a brief discussion of the potential for anachronism when basing a twenty-first-century study on sixteenth-century reformers. The introduction also defines key terms, which will be of particular benefit to those who are new to the nomenclature of ecological ethics. Two terms warrant mention here: terreology and vocation. Jorgenson defines terreology as the "theoretical, abstract perspectives on our lived earth-bound (terre) experiences within Christian ecological ethics" (p. 4). Although she assigns many nuanced meanings to "calling" throughout the book, Jorgenson's working definition of vocation (both external and internal) comes from Luther and Calvin. Internal vocation is God's personal call to salvation, and external vocation "refers to the specific tasks, offices, relationships, and responsibilities one is led to by God" (p. 4). Following Gustaf Wingman's understanding of Luther, she finds vocation to be a "doctrinal bridge between creation and redemption" (p. 4).
Chapter one, "Surveying the Land," orients the reader to the variety within and methodologies of Christian ecological ethics. While it is true that most Christians opine that humans have not exercised dominion, stewarded, or served, depending on one's anthropology, the earth well, consensus on remedies seems elusive. Jorgenson, using Michael Northcott's classification, looks at anthropocentric, theocentric, and biocentric ecological ethics (p. 16). Anthropocentrism can be subdivided to include "Godly Dominion" (p. 17), "Stewardship" (p.20), and "Priesthood (p. 23). Jorgenson's evaluation of the anthropocentric approach is negative, basically because humans have been so demonstrably destructive to the planet. Paraphrasing Richard Bauckham, she says, "proponents of dominion put too much trust in free-market principles and in human ability to faithfully deploy them while not near enough stock in majority-view scientific findings" (p. 20). I am not sure that lack of trust in free-market principles has served the earth any better, but do agree that paying attention to science is important, with this caveat. Bauckham says that we need to "'remember Galileo'" (p. 20). I do, I also remember reading in high school The Rise and Fall of T. D. Lysenko, a cautionary tale of a pseudoscientist whose "doctrines" were sacrosanct in Soviet biology during Stalin's era. Lysenko's views on genetics hobbled Soviet biology for years. We are reminded that "we see through a glass darkly" (p.108); therefore, I choose to regard both economic and scientific "realities" with what I hope is healthy skepticism.
Theocentric ecological ethics can also be subdivided (Trinitarian and sacramental) and is finally found wanting by Jorgenson. Trinitarianism has as a strength its focus on the Creator, rather than on humanity and "helpfully draws our attention to the consequences of our relatedness" (p. 27), but it fails in its panentheism to account for theodicy and can end in abstraction. The sacramental approach is also panentheistic and runs the risk of "romanticiz[ing] nature" (p. 29), but it has strengths, chief among them is its willingness to cooperate with science. Biocentrism (deep ecology and creation spirituality), if Christian at all, would fit under the heading of process theology. The final section of the first chapter looks at practical ethics: Natural Value Theory (p. 32), wherein nature dictates morality; Constructivism, which "views the formal object of ethical enterprise as fundamentally political" (p. 33); and Ecological Subjectivity (p. 35), which considering the first two approaches to be insufficient, takes elements from both in "an embodied and contextualized ethic" (p. 37).
Chapter two is devoted to H. Richard Niebuhr's ethics. Having introduced her reader to an array of scholars and methodologies, Jorgenson begins to consider a viable, Christian, ecological ethic. But first, she mentions ecofeminist, Val Plumwood's assessment of how we find ourselves in ecological crisis. Plumwood cites "illusion, ignorance, and interest" (p.43) as the culprits. Though I suspect Plumwood and I would not agree on the structures and specific types of ignorance behind these culprits, I like this list. It reminds me again that we do look through a glass darkly. I may not think that the Church is as guilty as does Jorgenson when it comes to the environment, but I know that Christians are not guilt free. Putting my own politics aside for the moment, I think it is wise to listen to and to read of perspectives different from my own.
The crisis confronting Niebuhr was nuclear war, not the environment, but his views on vocation serve as a segway to Luther and Calvin. Niebuhr's responsibility ethic was relational and a response to God's call, "to move into one's calling was to move into greater relationship" (p. 46). Before moving on to the Reformers, Jorgenson poses Niebuhr's question, "'What is going on here?'" She answers that Protestant communities have abdicated their responsibility to the environment and enjoins us to repent. She makes the case that Christians, often unintentionally, have participated in the problem (p. 50). Here again, I may not agree on the specifics of the case against us Christians, but I do acknowledge a need for repentance. At the very least there are plenty of environmental sins of omission to consider.
In Chapter three we get to the heart of Jorgenson's ecology of vocation; that is, the relational aspect of calling. She considers Niebuhr's "mediated Christian ethic" to be rooted in the Reformation, specifically its "democratization of vocation" (p. 57). Luther and Calvin, in reaction in part to Scholasticism, believed that a biblical understanding of vocation was both sacred and secular. When one is called by God to be a Christian, to be conformed to the image of Christ, that calling extends to all facets of a person's life, and that life begins on the earth which God created. According to Gustaf Wingren, vocation "was Luther's dialectical lynchpin, bridging the theological gap between creation and redemption" (p. 60). To conceptualize vocation as only related to redemption and the eschaton misses the point that God created us to live on and care for a planet in which God is still active. I affirm that vocation is a way of life (p. 66), a life of service and self-emptying devotion (p. 68).
Chapter four, "Embodied Work," traces Protestant thought on vocation since the Reformers. In Jorgenson's estimation, Luther and Calvin's democratized view of calling was demonstrably lacking in many of their followers, who relegated vocation "to little more than a theology of work" (p. 75). Jorgenson holds capitalism and industrialism responsible for the current bifurcation of calling wherein one can be a Christian, yet, either by choice or necessity, find employment in occupations that are basically immoral on social or ecological grounds (p. 75).
As I have mentioned, Jorgenson and I differ in our politics; from my perspective, where there are sinful people, there will be injustices of all sorts. The love of money is the root of all evil, not capitalism. The industrial revolution came with manifold injustices, but I am not convinced that industrialism per se is culpable. Still, Jorgenson should be commended for her urgent entreaty that Christians must take a hard and humble look at how we live and work on this earth. Vocation can and should be holistic: God calls us to become Christians and as Christ followers to relate to all other created beings and creation itself. I applaud Jorgenson's paraphrase of "the Reformers' invaluable reminder—that any good theology must take into account the dusty, earthly, and biological realities of life" (p. 95).
In the next chapter, "Voices from the Wilderness," Jorgenson offers for contemplation three views of vocation from H. Paul Santmire, Sallie McFague and Wendell Berry. She finds in all three "a mediated ecological ethic wherein terreology and practice are held in tension" (p. 103). Santmire, the pastor of the three, thinks the Church has been ecologically bankrupt (p. 103). He seeks remediation in a life of "righteous cooperation with nature" (p. 106), in which one both serves and protects (p. 107) creation and other created beings with "awe-filled wonder" (p. 107), in joyful anticipation of God's reign (p. 107), while still acknowledging sin and death (p. 108). McFague, the scholar, construes "vocation as resistance" (p. 109), but does so from a kenotic perspective. An approach to vocation that is based upon the self-emptying "of God's body" (p. 111), and thus values others before self, "requires embodied acts of resistance" (p. 133). We resist the impulse to acquisitiveness and pursue a life given for the sake of other. Wendell Berry, the poet and storyteller, also disparages the Church's contribution to ecology. In his Port William novels, Berry implies that his definition of vocation has everything to do with God's gift (p. 116). God's gift should engender first and foremost gratitude and an intergenerational "commitment to and affection for place and people" (p. 117).
The final chapter reiterates the need to tie the Protestant doctrine of vocation to ecological ethics. According to Jorgenson, the fact that vocation should be seen as equally connected to the doctrines of creation and redemption "speaks less about doing the right thing or being the right thing and more about relating" the right way (p. 127). Therefore, calling must be about more than work, mere occupation. With this I heartily concur, but also with the notion that there is dignity in work, and rest from it, which needs to be reclaimed (p. 134). If we hold to the "priesthood of all believers," we have responsibilities and must tend to the ecology of our various vocations while engaged in love for neighbor (p. 128). How we relate in the workplace should be congruent with how we relate in Church or any other space. This means that social justice and ecological justice must be linked, regardless of whether Jorgenson and I might quibble about the "hows." In her synthesis of the previous chapter and conclusion to this one, Jorgenson invites us to ponder calling alongside the virtues of humility, restraint, and wisdom, and to the trio she adds justice and hope (p. 144). I humbly accept the invitation and hope that many Christians will do the same.
Elodie Ballantine Emig
Instructor of NT Greek
Denver Seminary
January 2023