Embodied: Living as Whole People in a Fractured World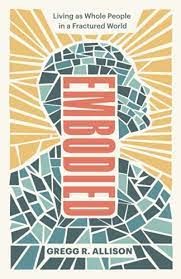 Gregg R. Allison. Embodied: Living as Whole People in a Fractured World. Baker: Grand Rapids, MI 2021. 272 pp. ISBN: 978-1-5409-0005-0, $18.39.
As the wave of depravity and biblical ignorance sweeps over our world, it seems popular culture would try to redefine what it means to be human. Attempting to stem this tide Dr. Gregg R. Allison offers a comprehensive biblical and theological Christian anthropology. Allison is Professor of Christian Theology at The Southern Baptist Theological Seminary and brings over two decades of focus on the human body. While human nature has two components (the material body and the immaterial soul/spirit), Allison's specific attention is on the body (p.14), hence he develops a theology of human embodiment (p.15). This book is important because: 1) it intersects with the doctrines of creation, humanity, sin, Christ, the Holy Spirit, salvation, and future things, 2) it speaks to current moral and social questions such as gender issues, body issues, eating disorders, et al., and 3) it exposes the error of Gnosticism/neo-Gnosticism (material things [like the body] are innately evil or at least not as important as the spiritual) on society and church (pp.15-16). The book unfolds in thirteen chapters, each with a topic to consider, a big idea, application, and a concluding deeper study of each topic entitled For the Curious.
Chapter 1 involves the creation of the body for "embodiment" is the right state of human existence (p. 17). The difficulty for humans and their body are two-fold. First, a subjective overemphasis on body image and, second, a contemporary Gnosticism that seeks to underemphasize the body (p. 25). The second chapter centers on "sex/gender … an essential given of human existence is maleness or femaleness" (p. 17). Neither women nor men have specific capacities or properties exclusive to themselves, instead those capacities and properties will inherently express themselves in gendered ways (p. 49). Chapter 3 discusses particularity. Our God particularly purposes and crafts every human "to be a particular gendered embodied individual (p. 59) … In terms of their ethnicity/race, family/kinships, temporality, spatiality, context, and story" (pp. 61-62). To be sure, there are two types of people in the world – male and female. God decides all these particulars (Ps. 139:13-16; Acts 17:26).
The fourth and fifth chapters examine sociality and sexuality respectively. Sociality is the given human condition where humans desire, express, and receive human relationships (p. 75). In marriage, sociality finds expression in sexuality (p. 18) designed by God as a sole relationship between a husband and wife who have covenanted together to be in a monogamous, unbreakable relationship (p. 86). Chapter 6 is a fascinating treatment about the incarnation of the Son of God. As the embodied Son of God, Jesus Christ became the God-man by the Holy Spirit (p. 18). The perfect, sinless, embodied Son would come for the divine purpose of being the "once-for-all embodied sacrifice for sin" (p. 113). The seventh chapter involves the sanctification of the body. Our maturation as disciples not only affects our spiritual, moral, and ethical growth, it also involves physical development (p. 125).
The emphasis of chapter 8 is the blessed and disciplined body. Humans tend to err on one end of the spectrum or the other, we either make an idol of or ignore our body (p. 148). The blessings from the physical senses of human embodiment are innumerable (pp. 18, 149). The ninth chapter pivots to our worship as embodied individuals. God's desire and design is that we worship bodily what is occurring in our heart and mind (pp. 169-170). Surprisingly, chapter 10 deals with the human embodiment issue of clothing. People wear clothes for assorted reasons — comfort, style, identification, uniformity, productivity, marking (weddings, funerals, graduations), status, intimacy, and pragmatism (pp. 192-195), but it is because of humanity's shameful nakedness that they do so (p. 197).
The last three chaptersconcentrate on suffering, healing, death, and the future of our body. Humans may suffer for a myriad of reasons, but all suffering can be traced back to the Fall, and our sin (p. 210). The conversation on healing ends with an insightful excursus on James 5, anointing with oil, and the prayer for the sick (pp. 217-218). Certainly, death is inevitable and though death does mean temporary separation from the body, when Christ returns believers will be re-embodied and so we will be as God intended us to be through eternity (p. 20).
A few highlights worth noting. First, Allison offers a brief digression on intersectionality regarding human particularity. Intersectionality seeks to divide based on difference, while particularity focuses on those differences (ethnicity/race, family/kinships, temporality, spatiality, context, and story) as being part-and-parcel of human embodiment, "The idea of particularity may overlap with, but doesn't endorse, intersectionality" (p. 66).
Next, while erudite, this theology is neither impersonal nor irrelevant. Allison's compassion for the body-human shines through in conversations on infertility, singleness, and suffering, as well as the general malaise of fallen humans. As stated earlier, this is not impersonal for it is immensely practical, guiding believers to "map out who you are as a particular person created by God" (p. 70), then "revisit each created particularity and do another map: your map as a particular individual being re–created by God" (p. 71).
For all the positives, there is one issue that deserves a closer examination. There is an invigorating interchange on sociality and siblingship, or exactly how do brothers and sisters in Christ relate to others of the opposite sex without falling victim to temptation. Allison maintains and most would concur "holiness and purity should be pursued, and prayer for God honoring friendships should characterize these relationships. Meetings should be in public places, not behind closed doors or in isolated offices" (p. 81). Still, Allison wonders about the wisdom of the Billy Graham rule (i.e., avoid any situation that would have even the appearance of compromise or suspicion with the opposite sex) (p. 83). He considers this necessary because it makes the party under "enforcement" feel mistrusted, implies they have a poor reputation or poor intentions. His argument, though convictional, may not be convincing to some. Wisdom calls for adopting habits, behaviors, and strategies to protect one's testimony (Prov. 22:1; Eccles. 7:1). Still, the point in question does not affect the book's rich content in any way.
Allison leaves the reader wanting more, "I affirm some type of dualism and reject all forms of monism, which asserts we are only material (a body) or only immaterial (soul or a spirit)" (p. 14, fn. 2) — perchance a forthcoming companion text on the immaterial (soul/spirit) is in order. This volume will serve well in the church as an adult Bible study or as a seminary text for: 1) Biblical Anthropology, or 2) a companion text for Christian Ethics. For further reading, one may consult John W. Kleinig's Wonderfully Made: A Protestant Theology of the Body (Lexham Press, June 2021). Embodied is a must read for "[we are] fearfully, and wonderfully made" (Ps. 139:14) and Gregg Allison want us to know that if we perceive our embodiment the way God does, "It will decisively enable [us] to live as a whole person in a fractured world" (p. 260).
Tony A. Rogers, DMin
Senior Pastor
Southside Baptist Church (Bowie, TX)
January 2022