Evangelism in a Skeptical World: How to Make the Unbelievable News about Jesus More Believable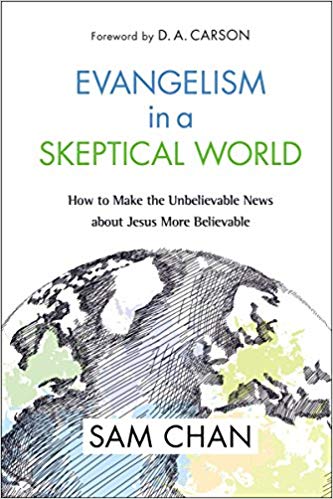 Denver Journal Review Article by Denver Seminary Senior Professor of Leadership Dr. Larry H. Lindquist
Sam Chan. Evangelism in a Skeptical World: How to Make the Unbelievable News about Jesus More Believable. Grand Rapids: Zondervan, 2018. 288 pp. $24.99, Hardcover. ISBN-10: 0310534674 ISBN-13: 978-0310534679
Evangelism in a Skeptical World includes two DVDs. Dr. Sam Chan teaches 16 lessons that basically mirror the content of the book. Since the content of the book and DVDs is nearly the same, I believe the intent of the author to simply offer two delivery formats rather than to use the two in combination. One of the striking experiences for me when I watched the DVDs was to observe an Asian author with a pronounced Australian accent.
As I read the impressive credentials of Dr. Chan (not only earned his Ph.D., but his M.D. as well), I must confess that I anticipated the author's gifts might not include teaching in front of a camera. I was very wrong! Dr. Chan is an animated and charismatic communicator and has traveled extensively as an evangelist and speaker. The setting of the recorded lessons is a comfortable office with no live audience. Although Dr. Chan's shirts occasionally change throughout the 16 lessons, the setting does not. I believe the energy of the DVD lessons would increase with the inclusion of a responsive audience.
Whereas the DVD includes 16 lessons, the book is divided into 10 chapters. The book would be a wonderful addition to the texts used in a course on culture, missiology or evangelism. Chapters eight and nine might even be used as helpful tools in a homiletics course. I was quickly impressed with the practical application, anecdotes, and cultural relevance in this book. Any book that mentions Beyoncé, Revenge of the Sith and Carpool Karaoke will grab the attention of contemporary readers.
Chapter one (DVD lessons two and three) gets quickly bogged down in definitional minutia that is an unfortunate way to begin what quickly becomes a much more engaging read. Unless the reader comes to the book hungry, the first chapter seemed to lack a hook to establish any sense of urgency. It became clear that the author does not embrace what I refer to as a 'bee sting' (punctiliar) evangelistic approach. The author has a wonderful ability to make complex theological terms and concepts (basar, euangelion, martureo, katangelo, Gospel, sovereignty, ordo salutis, faith, metanoia, epistrophe) understandable. I especially enjoyed his three models of conversion (rebel (prodigal son), zealot (Saul) and believer (Timothy)). However, that is a great deal to address in a single, opening chapter without boring the reader.
Chapter two (DVD lesson four) discusses six strategies for sharing Jesus. I was especially impressed with the explanation of Plausibility Structures (what a culture considers believable [epistemology]). The use of stories as part of these strategies sounds very similar to Youth For Christ's Their Story, Your Story, His Story. Throughout the book, the author highlights web links that direct the reader to helpful resources. In the case of this chapter, it references a website that helps you Prepare Your Testimony.
Chapter three (DVD lessons five and six) focuses on understanding biblical metaphors as they relate to sharing the Gospel. For example, if we see God as King, then our sinful state is rebellion requiring a response of repentance and submission. However, if we see God as Shepherd, then our sinful state is wandering requiring a response of following. A correct understanding of the concept of sin is a critical part of selecting an appropriate biblical metaphor (defilement, brokenness, idolatry, etc.). I was challenged when the author suggested that it might be more helpful not to use the word sin in our culture since it has been redefined and often misunderstood. Chan includes a critical analysis of both Campus Crusade's Four Spiritual Laws and Navigator's The Bridge Gospel presentations. Both of them are criticized because they individualize the Christian life.
Chapter four (DVD lesson seven) rehearses the shift from modernity to postmodernity. The author's conclusion is that postmodern culture values authenticity and being real. If you enjoy formulaic structure, you will love this chapter (Six Features of Modernity, Six Features of Postmodernity, Seven Lessons for Christians in a Postmodern World and Eight Essentials for Evangelism in a Postmodern World).
Chapter five and six (DVD lessons eight – ten) are worth the price of the book. These chapters assist the reader in cultural exegesis and the creation of a more effective evangelistic approach for that culture. If we overadapt to culture, we slip into syncretism. If we underadapt, legalism will result. Dr. Chan finds the "sweet spot" between these two errors. This book seeks not to suggest a universal evangelistic tool/formula but rather it seeks to equip the reader with the skills to understand cultural context and create an appropriate tool for that culture.
Chapters seven through nine (DVD lessons eleven – thirteen) read like a homiletics text. Chan offers clear, strategic steps in creating evangelistic talks. If you are invited to speak at an evangelistic retreat, revival or wedding (there is a section devoted to wedding evangelism), these chapters will serve you very well. The concepts of topical and exegetical sermons are debated as well as methods of response (sinner's prayer and walking the aisle). Again, the challenge of this book is cultural relevance.
The final chapter is dedicated to FAQ that confront those who share the Gospel to a skeptical audience. The author provides distilled responses to six challenges. What about other religions? Christians are judgmental Hypocrites. The Bible is wrong. How can a loving God allow suffering? Science disproves Christianity. How can a loving God send people to Hell?
The book is structured well, bathed with scripture references, and flows nicely. The reader will not be bogged down with the tedium of other academic texts. There are engaging anecdotes and pithy quotes throughout the book.
Larry H. Lindquist, EdD
Senior Professor of Leadership
Denver Seminary
December 2018