Four Views on the Apostle Paul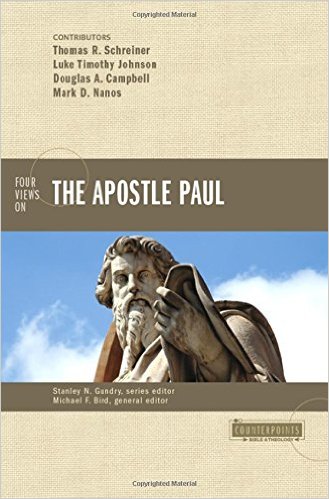 A Denver Seminary Book Review by Denver Seminary Professor of New Testament William W. Klein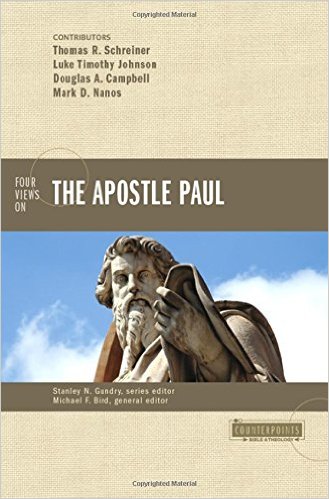 Michael F. Bird, gen. ed. Four Views on the Apostle Paul. Grand Rapids: Zondervan, 2012. 236 pp. $17.99. ISBN: 9780310326953.
I repeat words I wrote in a prior review in this journal: several publishers have promoted the book genre "point – counterpoint" with numerous entries. Zondervan is a leading one, and this book represents one of its most recent entries. The general editor, Michael Bird, supplies a nine page introduction as well as a six-page conclusion that introduce and then essentially review the salient points made by the four contributors. What makes this volume enormously interesting is the very divergent contributors, and their differences become amply evident in their own "takes" on Paul, as well as how they respond to and critique the essays of the others. Each of the four contributors presents his position and then engages in a rejoinder to the others.
Thomas Schreiner (New Testament professor at the Southern Baptist Theological Seminary) writes from an evangelical Protestant Reformed (Calvinist) position. Consequently, nothing that Schreiner writes is particularly surprising to those acquainted with that platform. For Paul, then, justification is by faith; salvation comes by virtue of God's grace to the elect; the substitutionary death of Christ secures redemption; and believers are eternally secure in their position in Christ. Schreiner understands eschatology to be the essential framework for grasping Paul's message. Of course, Christ stands at the center of Paul's theology; Christ has fulfilled the OT promises, inaugurated the new covenant, and will usher in the final consummation—all to the glory of God.
The second contributor is Luke Timothy Johnson (New Testament professor at Candler School of Theology). He writes as a former Benedictine monk and Catholic priest. Johnson is less sure about fixing a framework on Paul and finally settles on a combination of factors: Paul's presence in the Greco-Roman culture, his own religious experiences and that of his readers, the complex of traditions and practices of the church communities already in place, and his commitment to his Jewish heritage and what we call the Old Testament Scriptures. In Johnson's view, Paul finds Christ's significance as the resurrected one through whom people can experience God's new creation. Salvation is grounded in the cross, the supreme evidence that God "did not spare his own Son" for the sake of humans. The cross also signals a pattern for Christian community behavior. Thus, salvation consists primarily in concepts of liberation and transformation until God's final victory at the end of history. To be saved is to participate in God's visible people.
Third, Douglas Campbell (New Testament professor at Duke University) writes from what he calls a "post-new perspective account of Paul's gospel." Writers embracing the so-called new perspective (of course it is not a monolith) react against what they see as an unfair characterization of Judaism in the first century as a religion of works—and thus how they see Paul's writings in relationship to the Law. Campbell wants to go beyond the debate about how legalistic Judaism was while still taking the new view of Judaism seriously. In his more expansive agenda, then, Campbell wants to incorporate Paul's reflections on the church; his participation in the loving mission of God to the world in Christ through the Spirit; and the high ethical expectations Paul had for his converts. For the purposes of his essay, strangely enough, Campbell chooses to expound Romans 5 – 8 believing that it supplies the framework for his understanding of Paul.
To round out the diversity Mark Nanos (lecturer at the University of Kansas and scholar-in-residence at Rockhurst University) writes as a Jewish scholar of Paul and Jewish-Christian relations. He challenges standard Christian interpretations of Paul, believing that Christians have misunderstood first-century Judaism and Paul, and that Jews (often in reaction to Christian interpretations) have misunderstood and maligned Paul. He believes Paul did not denounce Judaism, but remained a faithful Jew and a strong proponent of Torah-based Judaism. According to Nanos Paul believed that with Christ's coming the end of the ages had begun, and that Paul's mission was to incorporate Christ-believing Gentiles into Jewish communities, but not that Gentiles become Jews. That is why Paul argued against circumcision for Gentiles as it was the rite for proselyte incorporation into Judaism. In embracing Jesus, Gentiles find rescue from idolatry and sin and are brought into a covenant relation with God. While Jews were already in a covenant relation with God, they needed to recognize God's expansion of his people through Jesus for Gentiles. At the same time, according to Nanos, Christ-believing Jews should continue their observance of Torah and their Jewish lifestyle. In so doing both Gentiles and Jews show that God is the God of all the nations (Christ is their Messiah) and the God of Israel.
Of course, the fireworks begin when each of these scholars responds to the positions of the others, and I must leave it to readers to sort out the results. I suspect readers will find various points of agreement with each of the writers, but also points of disagreement. I found these presentations very provocative and engaging. The publisher allowed good space for the rebuttals so readers get gloves-off, though respectful, views of the issues at stake.
William W. Klein, Ph.D.
Professor of New Testament
Denver Seminary
April 2016