Jesus the Eternal Son: Answering Adoptionist Christology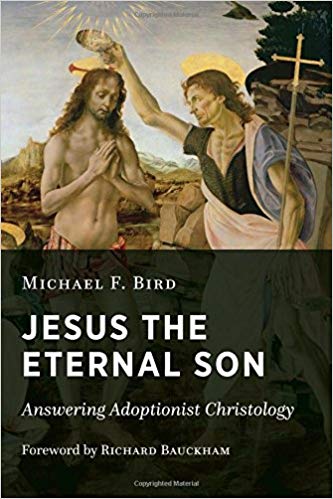 A Denver Journal Review Article by Monte French.
Bird, Michael F. Jesus the Eternal Son: Answering Adoptionist Christology. Grand Rapids: Eerdmans, 2017. $18.00. Paperback, xv + 155 pp. ISBN 9780802875068.
Common constructions of early Christianity argue that Jesus of Nazareth did not consider himself divine, and only after centuries of theological development did Christianity reach that conclusion. Therefore, the earliest Christology is one where the man Jesus, lives a blameless life and is adopted as the Son of God. In response to this, Michael Bird examines the texts utilized to support this reading, studying them in context, demonstrating that neither Scripture nor history supports the conclusion that adoptionism was the earliest Christology.
The first chapter provides a framework for Christological development, showing the issues addressed by the early church as they formulated what became orthodoxy. Bird introduces a number of factors that are often overlooked, including the role of the personal experiences of the first Christians with Jesus, what those experiences revealed about God and meant for their group identity. These realities lead to a variety of Christological expressions, which leads to the two central claims of the book: "(1) the first Christologies were hastily devised venerations of a theme of incarnationalism, even if the details were still to be fully worked out; and (2) adoptionism originated as a particular second-century phenomenon driven largely by internal debates about preferred texts and socio-religious influences on reading them" (p. 9).
Chapter two focuses on Romans 1:3-4 and Acts 2:36, passages regularly considered to hint at adoptionism. Romans 1:3-4 is thought to be a creed pre-dating Paul, due to the statement that at the resurrection Christ was "appointed" to be the Son of God. However, instead of teaching that before his resurrection Jesus did not have a divine status, Bird demonstrates that this verse shows that at the resurrection, Christ transitioned from one type of divine sonship to another. Acts 2:36 is treated similarly, as it might appear that this verse states that Christ was exalted to a status not held previously at his resurrection. However, in context, the Old Testament imagery indicates that Jesus is being identified with God, even during his ministry. The resurrection exalts Jesus in the sense that it gives Israel tangible evidence that Jesus truly was who he claimed to be.
Chapters three and four are devoted to the Gospel of Mark, the former surveying the debates that have surrounded its Christology and comparing the portrayal of Jesus to ancient understandings of humans attaining divinity in Jewish and Roman circles, and the latter dealing with the Gospel itself. While parallels between Mark and Hellenistic literature are present, the proposal that Mark follows Roman understandings of adoption does not hold up. The ancient world does not demonstrate one uniform understanding of adoption or divinization; in fact, ridicule of the concept is found in Hellenistic literature, especially among monotheists (p. 49ff.), making it unlikely that Mark utilizes this background for his Christology. Perhaps more convincingly, this sort of portrayal of Jesus is not found in early Christian expressions of worship, as the Son is always worshiped alongside the Father. If Christ had been divinized at his death as the emperors were, we would expect to find worship of him separate from God.
Instead, intertextuality proves much more helpful. From the beginning of the Gospel, Mark makes it clear that Jesus is God in the flesh, having come to lead a new Exodus (pp. 84-86). With the background of Psalm 2, Jesus' baptism is not a scene where Jesus becomes the Son of God, but demonstrates that he is now commissioned to complete his messianic task. Jesus assumes divine prerogative by pronouncing forgiveness of sins, an act only able to be done by God (pp. 92-94). Theophanic episodes such as calming storms and the Transfiguration identify Jesus with the divine to a degree far greater than seen in the prophets. Overall, Mark presents Jesus in such a way that leads the reader to conclude that Jesus must be divine.
Chapter five deals with the development of adoptionism itself, examining Shepherd of Hermas, the Ebionites, and Theodotus of Byzantium, showing adoptionism to not be an early teaching pushed to the margins, but a later development attempting to reconcile orthodoxy with philosophical commitments. Shepherd of Hermas 5, typically thought to teach that merit will lead to elevation to a divine status, does not speak to ontological metamorphosis. The Ebionites have been presented as a group who preserved this early adoptionistic Christology. However, this conclusion proves problematic, since most of the material we have of the Ebionites comes from their opponents, and they are regularly lumped in with other heresies, making it difficult to discern what they actually believed. However, what can be discerned is a possession Christology, where a divine power possessed Jesus, not adoptionism. The earliest Christology that can be called fully adoptionistic is that of Theodotus of Byzantium, which develops in the late second century, making the hypothesis of adoptionism as the earliest Christology difficult to maintain.
The final chapter demonstrates the significance of this work for today, showing that the maxim of Athanasius remains true: if Christ was merely adopted as God's Son, he is incapable of saving humanity from sin (p. 128-129). Further, to say that Jesus became the Son through merit promotes salvation by works, undermining the heart of the Gospel (p. 129-130). In order to articulate the Gospel with power, it is necessary that Jesus be the eternal Son of God, who brings salvation through being fully man and fully God.
This book offers many helpful contributions. For biblical studies, this book demonstrates excellent exegesis that accounts for literary and historical context. By taking the broader context of the passages debated here into account, it becomes difficult to argue for adoptionism in the New Testament. In studies of early Christianity, this book gives a succinct and effective analysis of relevant backgrounds, demonstrating how Second Temple Judaism understood humanity's relation to the divine, and Roman understandings of deification and adoption. While some parallels can be noted, there is not enough overlap with these concepts to be the main source, and even in these places of similarity, the New Testament authors take these concepts in a different direction from how they were understood elsewhere. Theologically, the last chapter of the book shows that this is an ongoing debate with far-reaching implications for how we understand the identity of Christ and our own salvation. Lastly, this book contributes to apologetics by demonstrating that orthodoxy can be trusted. The assumption that orthodoxy was a late development motivated by political interests is simply not true, and Bird's historical analysis of the late development of adoptionism shows that Patristic theology is building upon the foundation laid by Scripture.
Overall, Bird successfully defends his position from a number of angles. While the issue addressed is perhaps too specific to recommend to everyone, it will prove very helpful for anyone desiring to better understand the identity of Christ and the basis for orthodox Christology.
Monte French
Denver Seminary
August 2019