Lay Counseling: Equipping Christians for a Helping Ministry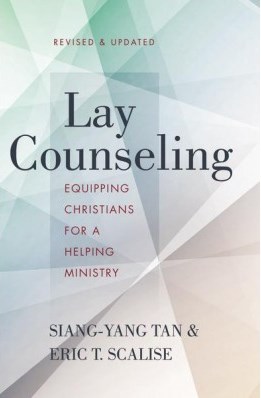 A Denver Seminary Book Review by Denver Seminary Professor of Counseling Dr. Fred C. Gingrich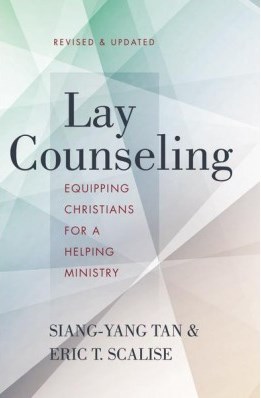 Siang-Yang Tan and Eric T. Scalise, Lay Counseling: Equipping Christians for a Helping Ministry (revised and updated). Grand Rapids: Zondervan, 2016. $19.99 Paperback, 320 pp. ISBN 978-0-3105-2427-4.
As a career-long mental health professional, one might expect me to be a die-hard advocate of professional training, licensure, and the educational and governmental infrastructures that support it. And, indeed, I do, in general, see the benefits of robust training and professionalism, especially when it comes to caring for people's lives. However, professionalism is a deeply embedded Western, and increasingly global, assumption along with the belief that anyone who is a professional must be better at helping than a non-professional.
However, when it comes to professional counseling is this assumption supported by research? In a sense, this is the subtheme of the release of a revised and updated edition of Dr. Siang-Yang Tan's (1991) original book. This revised and updated edition makes the case that there is a role in society and the church for lay counseling, and I think this is an important message, with caveats.
Denver Seminary has long taken an implicit position on this issue. On the one hand, the counseling licensure MA program, now the largest program in the seminary, has been a leader in seminary counselor education having been accredited as a professional counselor-training program since 1997. However, the Counseling Division also supports several "lay" counseling programs with concentrations in the MDiv and MA, and a certificate in Pastoral Care and Counseling. In a sense, this is a double message. We support professional training, and at the same time, support lay training. How do we make sense of this?
Allow me to summarize the thrust of this book. The first edition was based on Dr. Tan's research on both the secular and Christian lay counseling literature and programs. As well, Dr. Tan developed and ran several church-based lay counseling programs and shares what he learned in this well-written, accessible overview of the aspects and challenges of lay counseling ministry. Dr. Tan is now a professor of psychology at Fuller Seminary and a full-time senior pastor. This second edition is co-authored by Dr. Eric Scalise, a consultant, former VP for the American Association of Christian Counselors, and former professor of counseling and chair at Regent University.
Both editions of the book cover the expected topics such as the need for, biblical basis for, a biblical model of, and research on lay counseling. In addition, both delve into the logistics of developing a program with helpful chapters on planning and building a program, and the selection, training, supervision, and evaluation of lay counselors. Final chapters cover the topics of community resources, ethics and liability, and self-care for the lay counselor. These authors have provided us with the most thorough, and easily readable, treatment of the topic available.
Why is Lay Counseling Important to the Church?
This book presents a convincing case for the role of lay counseling. Of course, counseling as we know it today did not exist in biblical times but the argument can be made that the kind of pastoral care and caring for one another advocated for in Scripture is similar to what we now mean by lay counseling. In fact, the explosion of mental health services we have seen in the West over the past 40 years or so, parallels the declining influence of the church and Christian community as a context for support and healing.
The pastors and church leaders I talk to are deeply aware of the desperate needs that people in their congregations have. It appears that people are more open about their struggles, more focused on their pain, more embroiled in relational conflict, and more urgent in their desire for help than in previous generations. Despite the wealth of mental health services available, the demand appears to exceed the supply. As a clinical supervisor for practicum and internship students, and for those seeking licensure, I am frequently reminded of those who fall between the gaps in mental health services. Even those with insurance sometimes do not receive the services they need.
This then becomes a call to the church to step into the gap. Even though church staff and leaders do not have the expertise, time, and advanced training of mental health professionals, churches can reach into hurting lives and into the world beyond their doors with care and compassion. Whether it is called pastoral counseling, lay counseling, spiritual direction, mentoring, or simply Christian friendship, churches do not fulfill their mandate to care if they simply provide referrals to other community professionals and services.
Commendation and One Caveat
This book is a necessary call to develop and support lay counseling ministries. I know there are challenges—time, training, liability, and so on—but that is true of any ministry that involves people. I do not mean to minimize the harm that has been done by pastors and lay people, but professionals do harm as well. For all of us the call is to help not harm.
I would like to add an important consideration not addressed in the book. Counseling is a culturally embedded ministry. It arose in the social context of the West. It has become how Westerners, secular and Christian, tend to think about mental health issues. The problem is that counseling has also become a significant export from the West to the rest of the world. Not only do we think we have expertise they need, they think we have expertise they need. So well intentioned Christian mental health professionals travel the globe sharing their expertise, as I did for eight years in the Philippines.
I have become increasingly convinced that the mental health needs of the world, let alone our own country, will not be met by professional mental health services. The World Health Organization is now recognizing that "task-shifting" is a necessary strategy for responding to global mental health needs. This concept, advocated by Dr. Vikram Patel (see TedTalk "Mental Health for all by involving all") and others, challenges psychiatrists, psychologists, licensed counselors and social workers to focus on training national lay helpers. Whether called lay counselors, peer counselors, health workers, or church lay ministers, the idea is the same: focused on specific problems and populations, trained to provide helpful interventions, lay helpers can be as, if not more, effective in resolving problems than professionals. Patel challenges professionals who are threatened by this shift to relax—there is more than enough to do for both professionals and lay people. The crux of the issue is training and not doing harm.
I am glad to see the revision of this book, and that Tan and Scalise are willing to reiterate this challenge to the church. My colleague Dr. Brad Smith and I will have more to say about this topic in our upcoming book to be published by InterVarsity Press, Global Mental Health: Expanding the Church's Transforming Mission.
One Additional Comment
While I am thrilled to see the second edition of this book, I have become a little disillusioned by second editions; they often promise more than they deliver. I have received second editions that offered nothing more than a new cover and more recent publication date. This book does include new material but I was disappointed that the research literature supporting lay counseling was not thoroughly updated. There is considerable recent (post-2000) literature reporting on studies that show clear evidence of the effectiveness of lay counseling. In a field and research–saturated culture, driven by evidence-based outcomes research, as Christians, we need to do all we can to utilize research evidence that supports our Christian programs and ministry models. In order to counter the professional bias in the people-helping fields, we need to utilize the research that strongly supports the effectiveness of lay counseling (See Worthington, 2010, Coming to peace with psychology: What Christians can learn from psychological science; and Worthington, et al., 2013, Evidence-based practices for Christian counseling and psychotherapy).
The West and the whole world need to have as many care-giving believers as possible reaching out with the love and compassion of Christ to the many hurting people within and beyond our church walls.
Fred C. Gingrich, DMin
Professor of Counseling
Denver Seminary
January 2017