Meet Generation Z: Understanding and Reaching the New Post-Christian World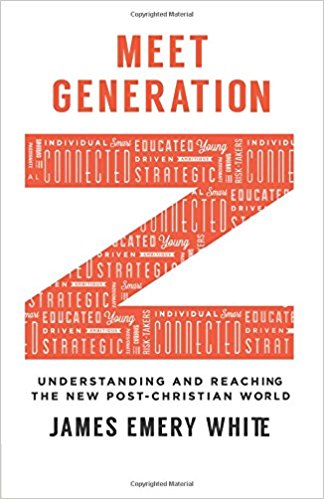 A Denver Journal Book Review by Denver Seminary Professor of Applied Theology and Biblical Preaching Scott Wenig
James Emery White. Meet Generation Z: Understanding and Reaching the New Post-Christian World. Baker Books: Grand Rapids, Michigan 2017. 219 pp., $16.99. ISBN: 978-0-8010-1701-8.
One of the most intimidating challenges the Church faces in the Late Modern World of Western Civilization is finding new ways to connect the Gospel to a culture mired in consumerism, individualism and the ubiquitous influence of media. From Scientism to smart phones, our society seems increasingly hardened to the good news of God's love for a lost and very broken world. With the passing of each decade this challenge appears to be ever more daunting. Is there any hope of effective witness for those who feel the irresistible call to proclaim Christ to a culture that has now moved far beyond its original Judeo-Christian foundation?
In his latest volume, Meet Generation Z, James Emery White astutely addresses this issue by assessing the newest coming-of-age Americans and advancing several specific strategies to promote the Gospel among a group who have had minimal contact with historic Christianity. White, founding and senior pastor of Mecklenburg Community Church in Charlotte, North Carolina, is a familiar voice to students at Denver Seminary as well as readers of The Denver Journal. His previous book, The Rise of the Nones, is required reading in the pastoral theology and Doctor of Ministry classes that I help to teach here and over the past few years I have reviewed some of his other works for this site. Moreover, given that White also serves as a distinguished adjunct professor of culture and theology at Gordon-Conwell Theological Seminary in Charlotte, a school that he once briefly served as president, compels us to listen to him.
His first words in the Introduction to this book set the stage for his agenda:
This is not another pop-sociology book about a particular generation. This is a book about the most significant cultural challenge facing the Western church that just so happens to be reflected in a new generation….Generation Z…[typifies]…the new reality of a post-Christian world. As the first truly post-Christian generation, and numerically the largest, Generation Z will be the most influential religious force in the West and the heart of the missional challenge facing the Christian church. (p. 11)
White then proceeds in his first three chapters to describe the new reality represented by Generation Z. They were born between 1995 and 2010, think they're going to eradicate racism, bigotry and other distasteful attitudes from society, and use SnapChat and Whisper far more than Facebook or Twitter. While three-quarters of this generation believe in some kind of God, less than half ever attend a religious service of any kind. They are sexually fluid, grew up on pornography and, in White's view, suffer from all the harmful effects of being severely under-parented (p. 53). Perhaps of greatest significance, they are, in his opinion, lost, leaderless and have little or no 'memory of the Gospel' (p. 64).
Part II of the book focuses on how the church can refocus itself to meet the evangelistic challenges presented by Generation Z. His main points of strategic application are as follows: a) be cultural missionaries; b) skew church young; c) target men; d) prioritize children's ministry; e) cultivate a culture of invitation; f) disciple your mission. He also includes three sermons he preached on homosexuality, the supernatural and the existence of God as appendices to help readers 'see' how they're trying to reach Generation Z at Mecklenburg Community Church.
There is a great deal to commend in this book. First, White's passion for the lost—especially those under the age of 30—burns throughout the entire work. It's difficult to read it and not be positively influenced by his heart for those Jesus came to save. Second, White's cultural analysis reflects his intellectual chops and serious research. While generational surveys are all too often 'over-generalized' (pun intended), this one seems to reflect a great deal of sociological reality based on my own interactions with the men and women of this demographic. Third, White's love of the church—and her call by Christ to take the Gospel to every people-group, tribe and tongue—bleeds out as well. And last but certainly not least, White argues forcefully for preaching the Scripture. As he prophetically notes,
What we need is the most powerful voice of all, which is, the Bible's. If we teach the Bible as the very Word of God, then we have unleashed revelation itself. God has broken out into the world in blinding flashes of lightening, and the Bible records the thunder. As a result, we can only bow our heads and open our hearts, minds, and hands (pp. 97-98).
For these reasons alone, it's worth our time to read and meditate on Meet Generation Z.
However, no book is perfect and that is true here. My first concern is not so much about its content as about its viability for the majority of churches and pastors. Jim White is conspicuously gifted as a leader, preacher, and evangelist. God's grace is upon his life and ministry and for that I am deeply grateful. But after living in the evangelical sub-culture for over forty years, I have come to recognize that there are only a few men and women who have the talent and capacity to lead churches, organizations and para-church movements in the way that White has done in Charlotte, North Carolina. This is not to negate his work or his efforts to help us. But it's my contention that those who read this book would be well-served to share it with their staff or leadership teams, carefully evaluate its applicability to their own context and then try to implement one or two of the proposed strategies. Perhaps over time more of what White suggests can then be added to the mix.
A second concern relates to the larger ethnic changes going on in North America in the early decades of the 21st century. The single greatest demographic change appears to be the massive growth of Hispanics within the United States. Despite our political debates about immigration and all its attendant issues, Hispanics will make up an increasingly large share of the general population by 2030. As much as I like Jim White and his books, especially this one, I'm not sure how relevant it is for Hispanic pastors, teachers, and community leaders. For one thing, very few of their churches appear to have the type of resources that White takes for granted at his church and in his suburban context. I don't claim to be an expert here but my intuition tells me that Meet Generation Z is more directly applicable to Anglo, Asian and, perhaps, some African-American sub-cultures than it is for Hispanics—despite the larger cultural forces at play that White so accurately chronicles.
Given these disclaimers and caveats, I want to whole-heartedly commend this book to the readers of The Denver Journal and I will be enthusiastically using it in some of my upcoming courses. White's apostolic spirit, cultural sensitivity and heart for the proclamation of the Gospel are traits I want to emulate in my own life and ministry. Likewise, I want to encourage the development of these same traits in our students, my pastor friends and my seminary colleagues. So, if possible, buy this book and then take the time to read it! Perhaps the LORD will use it to help all of us grow ever more into the types of people who take seriously His call to reach our culture with the life-changing power of the Gospel.
Scott Wenig, PhD
Professor of Applied Theology
Haddon Robinson Chair of Biblical Preaching
Denver Seminary
June 2018