Preaching as Reminding: Stirring Memory in an Age of Forgetfulness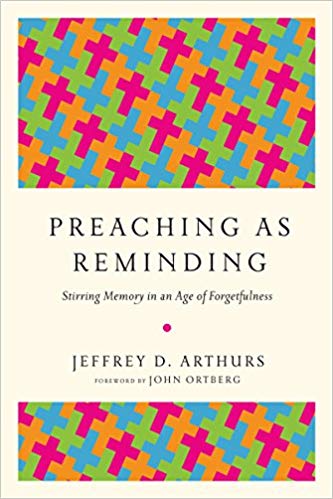 A Denver Journal Book Review by Denver Seminary Professor of Applied Theology and Biblical Preaching Scott Wenig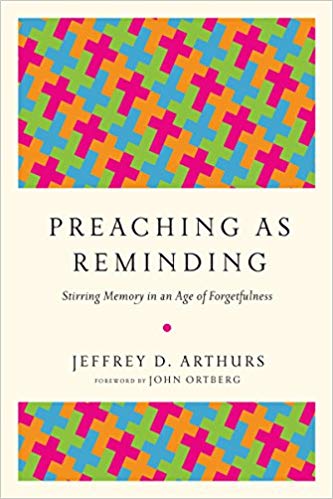 Jeff D. Arthurs. Preaching as Reminding: Stirring Memory in an Age of Forgetfulness. IVP Academic: Downers Grove, Illinois 2017. 166 pp. ISBN: 978-0-8308-5190-4, $18.00
Years ago one of the best preachers in North America told me that books on preaching were becoming passé. In his view, most of what could or needed to be said on homiletics had already been written. In the years since, I've meditated on this man's observation as one book after another has been published on preaching. Some of these haven't been very helpful, reinforcing my friend's observation. But, fortunately, there have been some notable exceptions and Jeff Arthurs' newest book is one such example.
Arthurs' take on preaching revolves around the concept of stirring the memory of the listeners. In his view, preachers are called to tell the old, old story of the Gospel – God's redemptive work in the life and ministry of Christ – but this doesn't require either novelty or innovation week after week. Instead, it most often beckons us to remind our parishioners of what they already know but are so prone to forget; the glory of God's gracious work of salvation and how that can transform their lives. As Arthurs notes, "…one of the preacher's main callings is to make knowledge, values and experience present once again" (p. 6). Lest his readers presume this means reciting monotonous themes cloaked in the garb of boring sermons, Arthurs passionately argues for homiletical excellence and skillfully builds his case on Scriptural teaching, biblical theology, rhetorical theory and church history. Borrowing the phrase "the Lord's remembrancers" from Lancelot Andrewes, who served as chaplain to the royal court of England in the late 16th and early 17th centuries, God's preacher has a solemn duty to "remind God's subjects of their covenant with the king of heaven" (p. 4).
This book is laid out in an exceptionally clear manner and both Arthurs and his editors should be commended for that. After showing us in the Introduction exactly what 'stirring memory' does for the listeners, the author uses the first three chapters to demonstrate from biblical theology all the spiritual elements that go into this approach. The last four chapters are then devoted to application. Here Arthurs specifically demonstrates how memory can be stirred via the use of vivid language, story, delivery and ceremony. The book also includes an index of scripture, an additional index of names and subjects, and a splendid bibliography that is eight pages long. As a preacher and professor of homiletics, the bibliography was one of the best things for me about this fine book. It's clear that Dr. Arthurs, who teaches Preaching and Communication at Gordon-Conwell Theological Seminary, is an avid reader who has leveraged his knowledge in numerous fields of study to help listeners 'remember' and readers grow in the art and craft of preaching. May his tribe increase!
While the overall content of this book is a valuable resource for any preacher, in my view two chapters stand out as particularly helpful. Chapter five, entitled "Story as a Tool for Stirring Memory," stresses the necessity of using stories to connect and communicate biblical truth as we preach. Dr. Arthurs explains this concept clearly and invokes the proven power of story by his use of some choice anecdotes as well as some fascinating tales from the lives of such notable preachers as Timothy Keller, Haddon Robinson, and the martyrdom of Polycarp (c. 180 A.D.). Occasionally I still encounter students and even some seasoned pastors who question the value of using illustrations, anecdotes, and longer stories in their sermons. Arthurs' chapter here is the perfect rejoinder to any who doubt the power of story in good preaching.
The second notable chapter is on delivery. This is an element of homiletics that many of us who preach or teach preaching often give little or scant attention too. But if we're serious about communicating in an effective fashion, this is a notorious oversight that only hurts ourselves and our listeners. Basing his argument on reams of research collected in studies on communication over the years, Arthurs shows time and again that "how we say things" is often as important – if not more so – than "what we say." This chapter reignited my desire to keep working as much on my delivery as on the content of my sermons going forward. As Arthurs' wisely notes, this is never an "either/or" but always a "both/and." The best preachers are those who always have something of substance to say and then proceed to do so in a way that connects with people. And he concludes this chapter by providing a wide-range of practical suggestions that any preacher can implement to improve his or her delivery.
Someone reading this review might wonder if this book contains any weaknesses. The only part that raised questions for me was the final chapter on Ceremony and Symbol. Here Dr. Arthurs stresses some of the key elements of corporate worship as significant parts of stirring memory among the congregants. This takes him into a discussion of such Old Testament concepts as sacred spaces, sacred time, rituals, music, and the public reading of Scripture. He then wraps things up with a discussion on the importance of Communion. While I appreciated his approach in this regard, I'm not sure this chapter effectively reinforces his earlier emphasis on stirring memory among the listeners. Many of the styles of corporate worship in past centuries were culturally and geographically driven, making it relevant to people who lived in other places during those times. But styles of worship are continually evolving and Dr. Arthurs himself admits that "the New Testament contains remarkably little information about the forms of corporate worship" (p. 132). I suspect that is because the church is called to go into every tribe, nation, and country on the planet throughout history, to preach the Gospel, and to establish itself as an indigenous institution. Given the vast diversity of cultures it would encounter in its historic and global mission, it needed to be methodologically flexible when it came to worship. I know that many believers today, especially academics, wince at the loud music and smoke machines used by some contemporary churches but those doesn't necessarily negate the Holy Spirit drawing people into genuine worship of the Savior. While this is a much larger discussion for another time and place, I would have appreciated a more nuanced perspective from the author in this regard.
Given that small caveat, Preaching as Remembering is a valuable contribution to the art and practice of preaching. It reveals that there continue to be many good and necessary things to be said about the discipline of homiletics. Therefore, I want to enthusiastically recommend it to the readers of The Denver Journal, particularly to pastors and students of preaching who seek to grow in this most important of ministry tasks.
Scott Wenig, PhD
Professor of Applied Theology
Haddon Robinson Chair of Biblical Preaching
Denver Seminary
July 2018