Reframing the Soul: How Words Transform Our Faith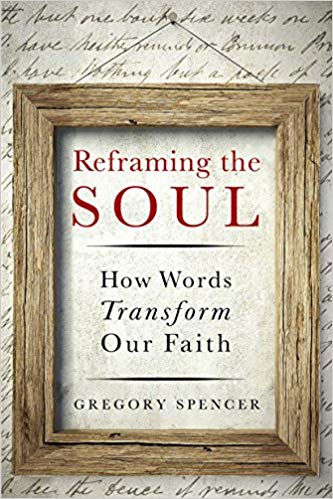 A Denver Journal Book Review by Denver Seminary student Evan Mitchell
Gregory Spencer. Reframing the Soul: How Words Transform Our Faith. Abilene, TX: Leafwood Publishers, 2018. 256 pp. Paperback. $15.99. ISBN: 978-0-89112-477-1.
Our words impact how we see ourselves and the world. These words create the frames we use to interpret our experiences and effect how we view the future or interact with others. Reframing the Soul is a book by Gregory Spencer that shows us the power of words. We use words to describe ourselves and others, to explain the past and to anticipate the future. "Every word is a window onto some vista" (22). Whether we realize it or not, our lives are impacted, either positively or negatively, by how we frame ourselves. Spencer calls us to evaluate these frames in order to change them and conform them to reality.
Reframing is important because as human beings we are not omniscient. We simply cannot, and do not, know everything about anything. We often misinterpret and develop an incorrect view of simple things. Reframing is the process of changing our view of people and events in order to better find and understand truth. Reframing is not lying to yourself about the past or "spinning" negative things so that they seem better than they really are. It is about discovering truth and order in the world. Spencer proposes four essentials of the soul by which we frame our lives creating the window through which we view the world. We remember the past with gratitude, anticipate the future with hope, dwell within ourselves in peace, and engage with others in love.
The first two essentials deal with how we speak about ourselves in time. Remembering the past with gratitude is the call to remember and reframe the past so that healing can finally proceed from any wounds that occurred. Spencer uses himself as an example and shows that reframing his parents' alcohol addiction, in order to see his parents as the hurting people they truly were, resulted in his being able to forgive them. It is impossible to change the past. The past can be redeemed and become a teacher to inform the future. "Our work reframing our past is work we do for the sake of framing our future" (109). The future is where Spencer turns next.
The second essential dealing with time is anticipating the future with hope. Spencer notes that everyone makes plans for the future. Those plans may be detailed, such as planning a career or a family, or they may be as simple as planning to accumulate as much pleasure as possible. How we anticipate the future matters because it effects how we act in the present. Spencer uses the idea that hope is built on confidence in eventual victory in order to highlight the statistical certainty of inevitable failure to plan well or accurately. When we experience failure, we need to reframe our thoughts and remember that God has already won the ultimate victory. Though we lose many battles, the war against sin and death is already won. Anticipating the future means living in this truth and planning our lives accordingly.
The last pair of essentials deal with space. First, we dwell within ourselves in peace. This is a call to know yourself as you truly are, not as our cultures, friends, or circumstances describe us. Allowing these outside voices to frame us results in the confusion that we often see in American culture where often we are "successful" when we own expensive things or have a high-paying job. In order to learn to dwell within ourselves, we need to have peace. Spencer defines peace as "the practice of learning the truth about ourselves, having a charitable view of that truth, and in the context of brokenness, doing our best" (171). Ultimately, Spencer suggests that we treat ourselves the way we treat others; with grace and acceptance. This will lead to a reframing of how we deal with ourselves.
The final essential Spencer gives is engaging with others in love. Spencer speaks about ways in which current technologies have created a distance between ourselves and others. This distance makes it much more difficult to love people. He shows how cell phones have caused us to attempt multitasking which necessarily results in poorer communication. In fact, there is a trend to attempt conversations via social media or cell phones instead of face to face because it can be more convenient. Spencer suggests that we need to reframe how we see and use technology so that we can begin to have deeper conversations with others and to show love to them in this way. We need to choose a "hospitable presence" where "the whole person gets involved: emotions, intellect, values, and the senses…" (202). When we reframe how we interact with others we will begin to develop deeper relationships and lead a more fulfilling life.
Reframing is a commitment to frame our inner stories according to the truth. It is a call to evaluate and change how we see ourselves and others where our view is incorrect or not fully true. Reframing is a process that requires us to listen well to God and to the Scriptures. We ultimately choose our frames. The words we use about ourselves and others matter because they "affect our work and play, our faithful and unbelieving choices, our virtues and our vices" (227). Spencer calls us to ask, "When you frame your life, what's in the picture?" How you answer this question shows how you view the world and the people who dwell within it.
Spencer's book is an excellent resource for helping us to understand how we see the world. His call to evaluate the words we use in describing ourselves and our situations should be heeded by anyone willing to conform their perspective to the truth. Truth is what we should be seeking because truth matters. Truth shows us our place in the world and we cannot interact with God or other human beings without it. Spencer shows the importance of conforming our view of the world to the actual world because it can bring healing to us and our relationships. Spencer expertly shows that words have power and we should take care in how we use them to describe ourselves and others.
Evan Mitchell
Denver Seminary
May 2019