Reviewing Leadership: A Christian Evaluation of Current Approaches (2nd ed.)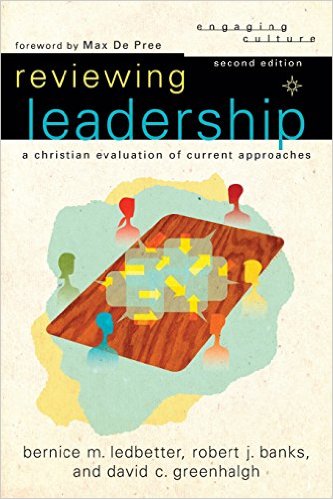 Denver Journal Book Review by Denver Seminary Professor Dr. Larry H. Lindquist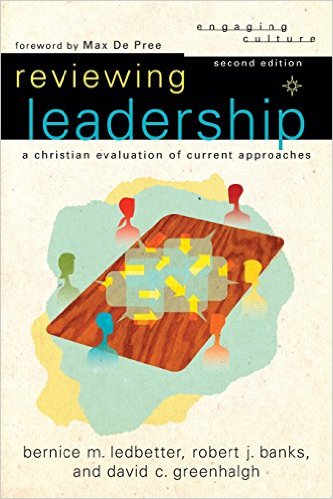 Bernice M. Ledbetter, Robert J. Banks, and David C. Greenhalgh. Reviewing Leadership: A Christian Evaluation of Current Approaches. 2nd ed. Grand Rapids: Baker Academic, 2016. 240 pp. $23.99, Paperback. ISBN: 978-0801036293.
This book is the second edition of the work Ledbetter and Banks released in 2004. In this second edition, David C. Greenhalgh (professor of education and leadership at Boston University and director of the PhD program in organizational leadership at Eastern University) was included as co-author. I read the first edition on its release in 2004, so I was also curious about changes and additions in this second edition.
The first word I would use to describe this book is scholarship. Banks, Ledbetter and Greenhalgh have certainly done their homework. Their leadership research, bibliography, and knowledge of the field are nothing short of outstanding. It is one of the most impressive works I have read that seeks to provide an overview of various approaches to leadership. The integration of how various faith traditions interpret leadership is among the best I have read. I scanned the bibliography of both first and second editions and found nearly 30 percent additional resources with dates subsequent to the first release. They have truly updated their research.
The second word I would use to define this book would be disjointed. I was not too impressed with the flow of this book. The book tends to read like a research report providing great 'nuggets' of leadership insight. Although the work was accurate and well researched, it seemed disconnected. Arbitrary questions were asked and answered through examples, case study, and research. Why those questions? Why different questions when considering various approaches to leadership? It would have been helpful if Banks, Ledbetter and Greenhalgh had developed a type of common rubric against which each of the various approaches and case studies could have been contrasted.
The first chapter includes great definitions and distinctions. The authors discuss management and leadership, women in leadership, and how the issue of power informs leadership. I was curious as to why the authors relocated the section on women in leadership from chapter one in the first edition (Definitions, Causes and Issues) to chapter four in this second edition (Faith Based Approaches in Leadership). I was also a bit disappointed with the theologically thin discussion on women in leadership. I found the discussion on the issue of power in leadership reminiscent of Nouwen's reflections on the temptation to be powerful in his book In The Name Of Jesus. Beginning with the first chapter and throughout the book, there was a wonderful and consistent integration of the Holy Spirit and leadership. I found the conclusion section following each chapter helpful.
In chapter two, the authors discuss five Christian approaches to leadership. These approaches include those of Benedictine, Lutheran, Presbyterian, Quaker, and Pentecostal traditions. However, before these approaches are discussed, the leadership of the Apostle Paul is investigated. The authors are masterful in distilling these approaches. I found myself mumbling 'well said' as I read this chapter. I would have enjoyed a deeper defense of the selection of these particular approaches. Why these? Why only Paul? Are there other biblical leadership examples which may offer additional perspective (Old Testament leaders or women)? Even though I was somewhat frustrated with the seemingly arbitrary selection of leadership approaches and biblical character, if you seek a chapter which provides a wonderfully distilled overview of schools of thought in ecclesiological leadership, this is it! Chapter two is worth the price of the book.
Chapters three and four are dedicated to leadership case studies. Banks and Ledbetter investigate the religious and spiritual (both broadly defined) dimensions of leadership though the lives of Steven Covey, Patricia Brown, David Baron, Laura Beth Jones, Charles Manz, Max De Pree, Vaclav Havel, and others. I would have expected a deeper explanation and defense of the selection of these particular individuals. Although these chapters are informative and well researched, there is less commentary than I would have liked. In a positive way, that suggests that this text would be a wonderful springboard for deeper discussion in a graduate course on leadership. There are no questions for discussion offered, but the research begs further discussion and interaction. In chapter four, I found the nine marks of Jesus' leadership that would not transfer to most organizations today exceptionally insightful (e.g. having a mission to suffer, seeking another's glory, inverting the world's power scale, etc.).
Chapter five is convicting! The issues of integrity, faithfulness, and a servant heart as characteristics necessary in Christian leadership are unpacked. I was personally challenged by an illustration the authors used to describe a sacrificial servant leadership. The story related how a Christian business leader who was obligated to downsize the company decided that resigning his position instead of firing someone else was the best option for others and the company. What a striking example of someone who was willing to sacrifice himself for the sake of his colleagues! How often has that level of servant leadership been exercised? As the authors state, "the word servanthood is in danger of being viewed through the distorting lens of its contemporary misuse by those in authority (109)."
In the final chapter four individual leadership approaches are briefly discussed. The authors use Frank Buchman to debate the need for a leader to have a certain kind of personality. Buchman seems to push against all of the stereotypic leadership personalities. Soren Kierkegaard's leadership approach is used to help us determine if leadership is about fulfilling our own potential or relinquishing it to fulfill others'. Janet Hagberg is studied to better understand if leaders are primarily exercising power or empowering others. Finally, Gordon Cosby offers a challenging perspective on the role of leadership in change and renewal. Although these case studies are well done and fascinating, the selection of leaders and questions addressed seem a bit arbitrary.
Overall this book is impressively researched and written. It would serve well as a required text in a foundational course in leadership at an undergraduate level or supplemental text at a seminary. The historical overview in chapter two provides a wonderful foundation and the case studies throughout the book will stimulate class discussion. Unfortunately, there are few books in the field of Christian leadership that successfully integrates various leadership theories with faith traditions. Reviewing Leadership is one such book. There is far more practitioner based leadership literature than theoretical. Although Reviewing Leadership does not land in one particular theological tradition, this book can be effectively used to broaden the perspective of Christian leaders on theory and theology if the reader is willing to make the effort. Until more contributions are made I suggest placing it on your library shelf somewhere among books such as Dockery's Christian Leadership Essentials, Tom Marshall's Understanding Leadership, and Malphur's Being Leaders.
Larry H. Lindquist, EdD
Director of Leadership Development
Denver Seminary
February 2017