The Acts of the Apostles: Interpretation, History and Theology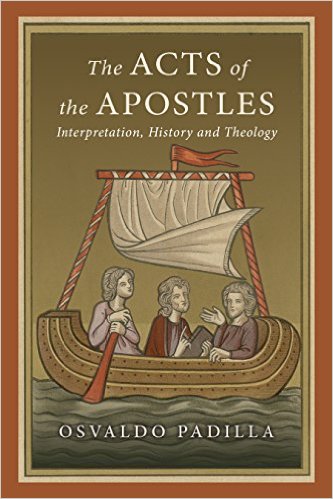 A Denver Seminary Book Review by Denver Seminary Distinguished Professor of New Testament Craig L. Blomberg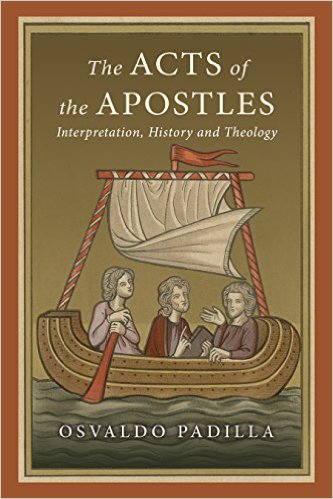 Osvaldo Padilla. The Acts of the Apostles: Interpretation, History and Theology. Downers Grove: IVP Academic, 2016. 264 pp. Paperback. $26.00. ISBN 978-0-8308-5130-0
Padilla, associate professor at Beeson Divinity School, announces his ambitious goal in the first sentence of his book's introduction: to be a counterpart for Acts to I. Howard Marshall's Luke: Historian and Theologian. His first chapter defends Lukan authorship. After responding to counterarguments, he stresses the uniformity of the early church tradition in support of this comparatively obscure individual, along with the probability that Irenaeus was not the first person to make the claim about Luke but that he relied on older material, as is suggested by his comments on Matthew, Mark, and John.
The second chapter tackles the genre of Acts. Padilla does not survey all the recent proposals but does rebut those who see it primarily as fiction (either an epic or a novel) and opts for a historical monograph, akin to 2 Maccabees in the Jewish tradition. Luke's preface (Luke 1:1-4) to his two-volume work proves crucial here. Two main implications follow from this generic identification—readers will expect the events narrated to have actually occurred, though how accurately each is depicted cannot be decided in advance, and the author should have been an eyewitness or an interviewer of eyewitnesses to the events he narrates.
Chapter three turns to how Luke writes history and unpacks three main points. Luke writes as a theological historian, in narrative fashion (which implies selectivity, interpretation and artistry), and responsibly. Luke is particularly adept at epitomizing, using prolepsis (foreshadowing), and employing synkrisis (comparisons), both to legitimate later followers of Jesus and to encourage imitation of them. Luke also is a master of dramatic irony. Padilla offers multiple excellent examples of each of these techniques as he presents them. Overall Luke employs all of them to create a missional unity to his work.The reliability of his history should not be assessed by modernist criteria, expecting a standard of accuracy foreign to his age, nor by postmodernist skepticism about the ability to write reliable history in the first place.
For a particularly prominent and important test case, Padilla chooses in chapter four to examine Acts' speeches (building on but going well beyond the work of his published dissertation on speeches of outsiders in Acts). A helpful survey of the historical goals of Thucydides, Polybius, Dionysus of Halicarnassus, and Lucian of Samosata shows the high standard of reliability of the first two of these ancient Greek historians and the slightly diminished ones of the later two, who were closer to Luke's era. While there was freedom to put in a speaker's mouth words that one believed conformed to the content of what he must have spoken, there was no freedom to attribute a speech on topic x to person y at a time and place where that person never addressed such a topic. Two noteworthy distinctives set Luke apart from his contemporaries. His speeches are characteristically much shorter than other historians' counterparts, not least because he does not embellish known outlines with invented material, and he does not regularly pair speeches (two different speakers debating a topic), presumably because he knows this did not occur in the portions of the apostles' ministries that he narrates and he will not invent them.
Chapter five resists the urge to sketch a theology of Acts, which Padilla believes would require an entire book, but focuses on the theology of the speeches as a representative and wide-ranging test case. He does not try to fit all of them into the same mold but stresses their diversity and the discrete themes each presents. His overall summary focuses particularly on a universal God, Christology in fulfillment of the Scriptures, pneumatology that unites Jew and Gentile, and soteriology accomplished by Jesus but appropriated especially by repentance that leads to the forgiveness of sins.
A final chapter surveys how Acts justifies its truth-claims in light of postliberalism's rejection of positivist and modernist historiography and philosophy. This movement is correct to recognize that Christianity cannot be proven and that Acts does not attempt to do so. It presupposes a certain measure of faith seeking understanding. But contra postliberalism, the resurrection is presented repeatedly as a soft apologetic that can be persuasive when it is Scripturally mediated, apostolically witnessed and pneumatologically grounded. In other words, when the Spirit uses the Scriptures and their accounts of predictions and fulfillments as testified by the credible founders of the church and followers of Jesus, especially of the resurrection, then people can both come to faith and have their faith strengthened.
It is doubtful if this book will do for Acts studies what Marshall's did for Luke, but that is probably setting too high a bar for most mortals! Marshall actually did manage to survey most of the major themes of Luke in a book of about the same size by treating each with commendable succinctness and yet not overlooking any major issues or scholars in the process. Padilla may have matched Marshall with his treatment of introductory matters, genre and questions of historicity; indeed noticeably more of his volume is occupied with those issues than Marshall's was. But those are the areas where good work is still needed; we don't need a nuanced evangelical theology of Acts to the same degree that we needed one of Luke in 1970.
There are a couple of places where Padilla lost me. Speaking about Andrew Gregory's recent Oxford thesis on the reception of Luke and Acts prior to Irenaeus, Padilla writes, "Gregory opts for a very conservative conclusion," (p. 25) when it seems he must mean that "Gregory does not opt for a very conservative conclusion." Later he approvingly quotes Thomas Phillips as insisting that most scholars think Acts is history, "but not the kind of history that precludes fiction." Padilla inserts a "[sic] after precludes; does he think Phillips meant to write "includes"? I don't think Phillips did, given the contents of his overall work, and if he meant "precludes" then Padilla shouldn't be agreeing with him in light of the contents of his overall work!
On the other hand, there are gems in Padilla's volume that are worth the price of the entire book. In an age when some on the far right are still blacklisting colleagues because their understandings of inerrancy don't match a certain desired precision, we are reminded that "it would be a hermeneutical mistake of the gravest type to force Luke's manner of speech reporting into our contemporary mold" (p. 124). Indeed, "the desire to force God to inspire the Bible in a way that our assumptions about the world are confirmed can be idolatrous" (p. 125). Or again, after discussing the socio-political approach of Acts' speeches, Padilla concludes, "The Christian message challenges society, but it does not—and should not—foment insurrection" (p. 194). Padilla's refutation of anti-foundationalism and support for what he calls soft foundationalism is congruent with N. T. Wright's and others' support for critical realism and a welcome, balanced position.
Padilla's volume certainly deserves a wide readership and appropriation.
Craig L. Blomberg, PhD
Distinguished Professor of New Testament
Denver Seminary
June 2016