The Disciple Maker's Handbook: 7 Elements of a Discipleship Lifestyle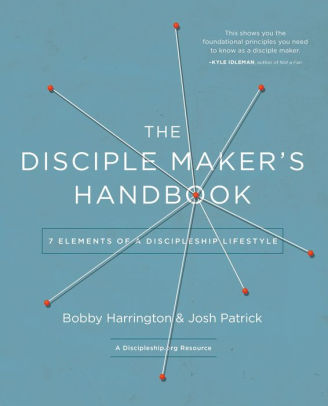 A Denver Journal Book Review by Denver Seminary Assistant Lecturer of Training and Mentoring, Debra Anderson.
Harrington, Bobby and Josh Patrick. The Disciple Maker's Handbook: 7 Elements of a Discipleship Lifestyle. Grand Rapids: Zondervan, 2017. $16.99. Paperback, 192 pp. ISBN 9780310525271
The Disciple Maker's Handbook is a high performance engine in the disciple-making crusade. Working through scriptural examples, instructive mechanisms and narrative experience Bobby Harrington and Josh Patrick (ꝉ) employ what they label "intentional, relational discipleship," to transport the reader from curiosity to urgency to hope for the flourishing church.
Harrington and Patrick are practitioners, leaders in the same church at the time of their writing, who are inspired by a temperate Restoration Movement theology yet are coactive with cooperative expressions of disciple-making. This work stands on the back of other discipleship writers and influencers (such as Robert Coleman, Bill Hull, and Randy Pope) and builds cumulative insights to create a contemporary momentum.
The strengths of this book lie in the dual focuses of "intentionality" and "relationship." These are successfully highlighted as primary keywords in the definition of disciple-making and are followed by excellent commentary in the chapters addressing each one. Harrington and Patrick are skilled at helping the reader name latent resistances to these particular ideas. For instance, speaking to the importance of developing relationships before structures the authors identify, ". . . some pastors get nervous. They think that emphasizing relationships means that we are going to diminish the deeper things of the faith" (73). They follow this with sweeping observations on the formative value of cultivating love and patience in relationships, and in the end, they leave room for the reader's resistance to fall. The corresponding treatment of intentionality, works against the resistance that "good intentions" are enough to make a disciple. The authors identify, "Sometimes Jesus is characterized as a free-spirited, homeless vagabond living out of a trash can, floating from town to town with no real plan. . . this is not the real Jesus of the Bible. Jesus always had a purpose in what he did" (100). Harrington and Patrick offer solid arguments and examples which construct an imperative intentionality and clearly help the reader confront their own resistance.
The point of the book is to equip readers to make disciples, to produce fruit. It is less about the activity of formation than it is about the actuation and acts of the disciple maker. As such, the book drives toward a product which is to recreate what Harrington and Patrick purport is Jesus' method of disciple-making. "Jesus didn't just give us a message, he also gave us a method. We believe he invites us to embrace his method of disciple making. Both his message and his method are inspired" (40). While, I would take some issue with this strong statement that Jesus had a particular method in mind, it might be hard to separate Jesus's posture from a repeatable method that is effectual in 21st century Western Christianity.
The first half of the book offers an assortment of helps that, while taken individually provide some inspiration, I struggled to keep them organized: seven big reasons to disciple others, seven elements of a discipleship lifestyle, five steps in forming a discipleship group, five levels of social contexts and other such lists. This rapid-fire presentation can inhibit the reader's application. The five levels of social contexts in chapter three is, indeed, a helpful breakdown of the different types of relationships which Christians holistically engage. It is accompanied by only brief implications regarding the depth of discipleship that may or may not take place in each type. However, the seven elements of a discipleship lifestyle, which is the framework the book establishes and spends the second half of the book unfolding, feels more like an unglued collection of theological beliefs: relationships, Jesus, intentionality, Bible, Spirit, journey, and multiply (42-3). I'm not convinced that they succeeded in creating a cohesive design. The elements are assuredly foundational to Christian growth, but they don't accomplish the framework the authors attempt.
The book is strong on exhortation and soft on exploration. The certitude of the authors' perspectives is unmistakable. The writing doesn't foster a rich curiosity about the nature of discipleship and there are only a few references to authors who address a deeper theology of discipleship (such as Dallas Willard and Dietrich Bonhoeffer). But the writing does deliver a preponderance of ideals. While their pastoral hearts are unquestionably communicated, Harrington and Patrick write with an obvious prophetic strength which will communicate to a particular kind of reader but may leave others unmoved. Raising the flag of duty in the act of discipleship, Harrington and Patrick stay on task.
This contributes to my main lament of the book: What are the author's assumptions which prevented women from helping to shape this work? From the endorsements to the notes, there are few female examples and voices. With negligible exceptions, the examples given by the authors are examples of men discipling men. The current, and successful, practitioners they cite and the historical voices they quote are male. As the authors share their exciting personal stories and experiences of friends and mentees growing in maturity in Christ, it becomes discouraging as a woman to feel like an onlooker rather than a hopeful participant. Though there are places where the authors do try to draw in women, such as in the first chapter there they say, "This book is written for Jim, Crystal, Robert and Sarah. . ." the rest of the book reveals that it's primarily written for Jim and Robert (30). In a church of both male and female, we need to write toward unity and inclusion and even give a vision for men willing to disciple women and women discipling men. As written, it would be difficult to recommend this book to half of the church. While the content and ideas are all very valuable, a second edition would do well to consider how all readers, regardless of gender, can be invited and inspired to participate in making disciples of all nations.
Debra Anderson, MA
Assistant Lecturer of Training and Mentoring
Denver Seminary
October 2019
(ꝉ) Joshua Patrick died January 13, 2019