The Lost World of Adam and Eve: Genesis 2-3 and the Human Origins Debate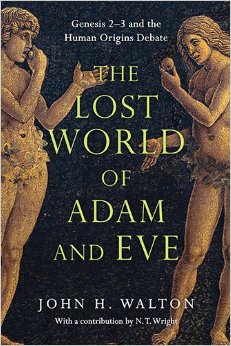 A Denver Journal Book Review by Denver Seminary Alumna Sara E. Evans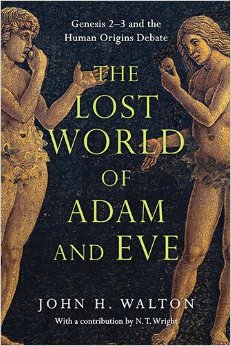 Walton, John H. and N.T. Wright. The Lost World of Adam and Eve: Genesis 2-3 and the Human Origins Debate. Downers Grove: IVP Academic, 2015. Paperback, $14.31. ISBN: 0830824618. 256 pp.
The debate surrounding human origins has grown significantly in the past several decades. Views on creation, human origins, and evolution have even become a litmus test in some sectors of Evangelicalism; the Genesis text is now sometimes used as a means for examining the orthodoxy of believers and especially their beliefs regarding the authority and inerrancy of Scripture.
John H. Walton, an Old Testament professor at Wheaton College, has bravely waded into the debate with his recent release The Lost World of Adam and Eve. In this volume, Walton attempts to examine the second and third chapters of Genesis through the lens of not only the Biblical text but similar Ancient Near Eastern literature of the period. In so doing he considers the places in which the text of Genesis overlaps with assumed beliefs in the Ancient Near East and where the Genesis text differs. Though not attempting to force the Bible "into conformity either with its cultural context or with modern science," (14) Walton assumes continuity with the former as God related to an ancient people without the developments and understanding of the latter.
Thus, the first of Walton's twenty-one propositions around which he organizes his volume argues for Genesis' distinction as an ancient document. From this vantage point Walton moves to other considerations. Rather than list them all (one need only survey the table of contents), this review will focus on a few of the broader themes or "propositions."
The first, of course, is that Genesis is an ancient document with more language and ideas in common with writings of the ancient world than our own society. This is in line with the belief that God has "accommodated the communicator and immediate audience" (16) even while investing his authority in that communicator. Due to this accommodation, elements of the narrative are easily misunderstood by modern readers.
What, then, are the primary ways in which modern readers are most likely to misconstrue the text? Walton believes the first of these lies at the very heart of the creation narrative. For modern society, consumed with scientific materialism that bases authority (or truth) purely on empirical analysis, the Genesis text reads as a story of material origins. This, however, was not of primary concern to the ancients with whom God communicated through Genesis. Instead, according to Walton, the ancient world focused on cosmological order, and creation demonstrates order being derived from a chaotic situation represented by the "waters" over which the Spirit of God hovered. This order is a result of assigned functions and roles given to elements of the natural system or the creatures placed within that system. Prior to God's intervention in "creating" or assigning roles, the world existed in a "time outside of time," because no creature or thing was yet "performing its duties" (29). Thus God creates a space for himself in the world by providing function, order, and a sacred place in which his presence may dwell and interact with his creatures.
As part of ancient cosmology, Adam and Even may be seen as archetypes for the humans who would follow them. This is a second way in which Walton believes many misread the text. As archetypes Adam and Eve represent humanity as a whole, both before God in their actions within the garden and as they represent the failings of ever subsequent human beings. Walton argues that Adam and Eve may easily have been a single pair of many hominids who existed in a distant past. They could be compared to Abram and Sarai, chosen from among all the people of the world to be the means through which God acted to bring about salvation through their descendants. Similarly, Adam and Eve were selected for a special, sacred role in the garden, one in which they failed. This failing, in Walton's mind, does not create death in the world. However, it subsequently denied humanity access to a remedy that would have been provided in the Tree of Life. Thus, despite their archetypal nature (which Walton believes the New Testament affirms), Adam and Eve are indeed real people in a real past.
Here it is important to consider Walton's views on the state of creation prior to the garden and the event of the fall. Humanity existed, as stated, before Adam and Eve. The accounts of their creation are not material but functional, describing God's selection of who would serve in the sacred space he chose to inhabit (the garden). Thus, death existed beyond the borders of the garden and chaos creatures, such as the serpent, still inhabited the earth. Adam and Eve were given the opportunity to essentially redeem this process or bring it to completion, assuming that they fulfilled their role. However, the pair rejected God as the source of order, rest, wisdom, and life; instead they chose to place themselves in this role. This brought disorder and chaos into the sacred space of the garden. One is reminded of Augustine's concept of disordered affections resulting in sin. The disorder of Adam and Eve's affection – their choice to supplant God – resulted in the breaking and disordering of the sacred space, their roles, and the chance for relationship with God. Thus, human beings are subject to sin and death, not because of genetics and biological descent from a first pair, but rather because we live in a world which is, at its very core, disordered and chaotic.
Thus, the reality of Adam and Eve's actions necessitates the reality of one who can fulfill this role. In Proposition 18, Walton argues that Jesus is the key to God's plan to restore perfect order. In his life, death, resurrection, and ascension Christ reveals what it means to be truly human, to live an ordered life, and he initiates for believers the restoration of sacred space. Eventually this process will culminate in a new creation. Here God will, once again, reside with his people and restore order to the world so that there will be no mourning, death, or pain. Walton sees Christ as the linchpin, representing Adam both archetypally as the "better Adam" and historically as his events happened within history.
There are many commendable elements to Walton's work. He offers a well thought out view of how the Ancient Near Eastern mind would have received and understood the story of creation. It is a helpful reminder that the ancient Israelites did not think of the world on our terms, and so the text should not be forced to support views with which it is not concerned. His comparison with other ancient creation narratives (Babylon, Egyptian, Ugaritic, and Assyrian) offers good insight in the similarities and distinctives of the Genesis account. His discussion of divine rest as "presence" rather than "relaxation" is also helpful for modern readers. The idea that humanity is called to a certain function (even after the fall and eventual resurrection of Christ) urges us to consider our purpose and responsibility towards each other and the created order.
There are, of course, problematic areas and many things that will make conservative Evangelicals uncomfortable. Perhaps the most obvious of these is the idea that Adam and Eve were not a "first pair" biologically. Though Walton offers various arguments why this is an unnecessary belief, many will find his views unconvincing especially as they relate to the inheritance of a sin nature. Similarly, Walton fails to adequately examine the doctrine of the imago Dei. When and how humanity came to image God is an essential underpinning for arguments related to human dignity: euthanasia, abortion, or the H+ movement, to name a few.
A further problem with the view of Adam and Eve as "chosen" rather than "created first" is how the world which exists before this selection of Adam and Eve relates to the Garden. It is one thing for Walton to say that Adam and Eve are chosen from among the wider mass of humanity; does this imply that the functionality installed in Genesis 1-2 reflects a similar choice? Does God simply choose a location from the wider world in which to create order, functionality, and then the Garden? Does the Garden simply become another archetype: real but also representative? How must we conceive of the rest of the world beyond the Garden?
Along this same fault line is the entrance of sin and its results. Walton's treatment of theodicy is lacking, at best, and at times is grossly negligent. Yes, the world is broken due to sin and subsequent disorder. However, even Walton's distinction between good and perfect does not seem to allow for hurricanes, violence among humans, and other dramatically destructive forces before the fall. Even the Eastern Orthodox, who believed Adam and Eve were created as immature, childlike-beings with the purpose of growing and maturing, would still affirm immortality and lack of death in the original created order.
A final and primary point of contention within Walton's book surrounds the subtitle: the human origins debate. Walton does not make explicit arguments in favor of an evolutionary understanding of human development. However, he in no place takes pains to deny that this not only fits his position but is better suited to it than six-day-creationism. He dances around the issue rather carefully by arguing that the Bible is not a scientific book and so makes no claims related to science. However, his leanings are obvious, despite his attempt to stand on neutral ground by reading "only" the text. Many will find the open attitude to evolution cause for alarm (if they even give the book a chance!). Others, however, will find it a welcome comfort. I think of today's (Christian) youth especially, such as college students who feel they must choose between a fossil record and their faith. Walton's book does them a great service by offering another way of believing: one that affirms God's control, his creative intent, and his consistent working in creation before, during, and after the Fall. Even with its pitfalls, that is commendable.
Sara E. Evans, MA
Denver Seminary
June 2015