The Slain God: Anthropologists and the Christian Faith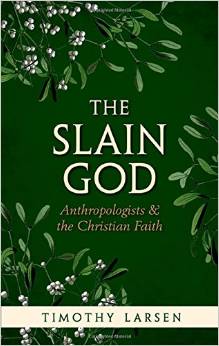 A Denver Journal Book Review by Denver Seminary Professor Dr. M. Daniel Carroll R.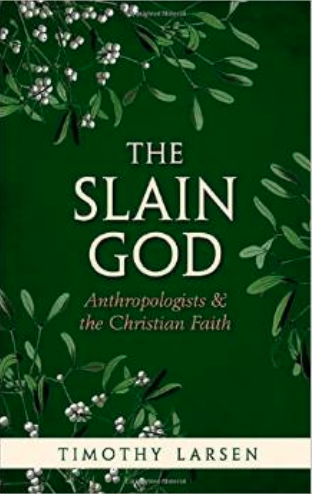 Timothy Larsen, The Slain God: Anthropologists and the Christian Faith. Oxford: Oxford University Press, 2014. $45.00. Hardback. 256 pp. ISBN 978-0-19-965787-2.
Timothy Larsen is McManis Professor of Christian Thought at Wheaton College. He has written two fascinating volumes on nineteenth-century England and the Christian faith, also published by Oxford University Press (Crisis of Doubt: Honest Faith in Nineteenth-Century England, 2006; A People of One Book: The Bible and the Victorians, 2011). The Slain God also concentrates on Britain, this time on six important anthropologists of the nineteenth and twentieth-centuries. Larsen states his goal in the book's first sentence: "The theme of this volume is how findings and theories in the discipline of anthropology have been interpreted as undermining or even discrediting the claims of Christianity, as well as, conversely, how anthropological insights have been perceived to be compatible with or even reinforce Christian faith" (p. 1). In the Introduction he justifies his choice of the subjects to research, as well as listing others he might have included in a more extensive project.
My interest in anthropology began during my doctoral work at the University of Sheffield in the 1980s, as I explored ways of understanding issues related to the contextualization of the Old Testament within Latin America. A section of my dissertation was dedicated to cultural anthropology, with an emphasis on the American anthropologist Clifford Geertz. For a number of years afterward I subscribed to the journal Cultural Anthropology, and I have continued to read in anthropology and the social sciences intermittently over the years. The fascination with this field also is sparked, I am sure, by my bicultural and bilingual background, my long experience in Guatemala, and my involvement with Hispanics in this country. My advisor in England was Professor John W. Rogerson, an Old Testament scholar who has published on anthropology's influence (both for good and ill) on biblical studies. He guided me in thinking more carefully about interdisciplinary method and the appropriation of the social sciences to biblical research. Hence, my attraction to Larsen's volume.
The Slain God has two foci. On the one hand, the book describes each anthropologist's experience of the Christian faith; on the other, it explores how they conceived of anthropology's role in explaining the nature and continuing presence of religion in general and of the Christian faith in particular. This is an impressive scholarly achievement. Larsen has read extensively the professional publications of these anthropologists and has done exceptional work in exploring their personal lives. The breadth of his reading is reflected in the extensive (and very impressive) closing bibliography (pp. 229-45). To summarize in detail the enormous amount of information in The Slain God would be a gargantuan task. This review concentrates more narrowly on matters related more directly to the Christian faith, which is the main concern of this volume.
In his Afterword, Larsen explains that he sees his historical survey as reflecting a ring-like structure. Its defining center and turning point is E. E. Evans-Pritchard, who demonstrated that an anthropologist of eminent stature could hold a robust Christian faith. Continuing with the notion of a ring structure, he explains that Edward B. Tylor's loss of belief and his efforts at discrediting religion are matched by Victor and Edith Turners' move from skepticism to the vocal endorsement of religion. Likewise, the attempt by James G. Frazer to challenge Christianity via anthropological theory finds its counterpart in Mary Douglas' constant work to buttress the Catholic Church and the Christian faith. What binds all of these social scientists together is their desire to analyze and evaluate—personally and professionally—the reality of the spiritual.
Chapter one presents Edward Burnett Tylor (1832-1917). Tylor is considered to be the father of British anthropology, as he was the first to hold a professorship in anthropology in a British university (Oxford). Born into a Quaker family, Tylor lost his faith through his comparative work on culture and religion; he and his wife (also a Quaker) renounced their membership in 1864. Based on a developmental model of human progress, Tylor argued that all human societies passed successively through the same three stages: the savage, the barbaric, and the civilized. Religion (and thus, too, Christianity) was deemed to be a "survival" of an earlier period of development: the animist, pagan phase of the savage stage.
James George Frazer (1854-1941), the subject of chapter two, continued with Tylor's evolutionary and comparative perspective, although he reformulated the developmental triad as magic, religion, and science. He was the author of several important works, the most significant of which is the well-known and influential The Golden Bough. The scope of this work on comparative mythology and religion is truly global, and by the third edition it had grown to twelve volumes. Frazer continually tried to redescribe, and thus undermine, biblical accounts and Christian beliefs and practices as continuous with the strange and primitive. The title of Larsen's volume, The Slain God, comes from a key theme in The Golden Bough. Frazer argued that all religions were violent and had a compulsion toward human sacrifice, of which the crucifixion was an example. In addition, the great myths and religions of humanity (including Christianity), he said, demonstrated the pattern of the dying and rebirth of a god. His parents were biblically committed, devout members of the Church of Scotland, and apparently Frazer never did reveal to them his change of mind about religion or his anti-Christian stance.
In chapter three Larsen turns to E. E. Evans-Pritchard (1902-1973). Tylor and Frazer had written from a non-involved and supposedly objective perspective, appealing to the writings of missionaries and others. Evans-Pritchard, however, was part of a new breed of participant observers. The notion of the necessity of first-hand experience is credited to Bronislaw Malinowski (1884-1942), whose post-graduate seminar in the London School of Economics Evans-Pritchard attended. His fieldwork was done in Africa, and a book that came from those experiences, The Nuer: A Description of the Modes of Livelihood and Political Institutions of a Nilotic People (1940), is one of the most influential books on anthropology ever written. Although Evans-Pritchard's views certainly sometimes reflect the biases of the times, one of his legacies was the argument that African tribal peoples were rational beings, too, and that their mystical view of the world did not mean that they had primitive "pre-logical" minds.
Evans-Pritchard's father was a Church of England clergyman, and he was educated in an Anglo-Catholic environment. Unlike Tylor and Frazer, anthropology did not lead him away from Christian faith. In September 1944, he officially converted to the Roman Catholic faith in the cathedral in Benghazi. Even though Evans-Pritchard did not consider himself a good Catholic (he was not a consistent attender of services and later in life developed a drinking problem), he defended the historic doctrines of the faith, engaged the Catholic mystic tradition, was well-versed in theology (both ancient and modern), lectured on religious matters, and wove theological views and biblical references into his anthropological writings. His faith made him a target of some in the field, but his response was to judge the work of the skeptical on religious ideas and rituals as biased and unscientific.
The longest chapter in the book, the fourth, presents Mary Douglas (née Margaret May Tew, 1921-2007). She grew up in Roman Catholic schools, and for the rest of her life was a devout Catholic. Larsen argues that this education and upbringing were instrumental in Douglas' enduring interest in order and hierarchies. Mary Tew studied at Oxford during Evans-Pritchard's tenure, so she was able to witness a place for faith in anthropology. She married James Douglas, also an earnest Catholic, in 1951.
Several of her early publications made an impact on biblical studies, especially research on Leviticus. The first was Purity and Danger: An Analysis of Pollution and Taboo (1966), then Natural Symbols: Explorations (1970). Part of the agenda of these works, according to Larsen, was to counter academia's prejudice against ritual and structure (and organized religion in general), which tended to extol the individualistic, spontaneous, and informal. The discussions ranged from ancient societies to the more 'exotic' African to the modern Western world. In Natural Symbols, Douglas offered her grid-group analysis as an analytical tool for grasping the ethos of cultures. Like Evans-Pritchard, she critiqued secularism and the conviction that religion was outdated for contemporary society.
Her husband's career and her own led her to a variety of academic posts on both sides of the Atlantic, and allowed her to grow in her interdisciplinary interests and gain standing as a public intellectual, who could speak to diverse topics. Later in life Douglas gave the Gifford Lectures at the University of Edinburgh (1989-90 academic year), which allowed her to return to a deeper study of the biblical text both literarily and anthropologically, in this case Numbers; not long afterward, Douglas delved once more into Leviticus. Throughout her published corpus there are references to theologians and biblical passages and ideas, as she sought to integrate her discipline with Catholic faith. As a social scientist, Douglas recognized that all knowledge is socially constructed, not just religion; therefore, religion could not be singled out (per Durkheim) as the special target of secularizing social studies. The incarnation of the Second Person of the Trinity demonstrates God's interest and involvement in the human social order, and so she did not see her research as contradicting or questioning her Christian beliefs.
The final chapter of The Slain God looks at Victor Turner (1920-1983) and Edith Turner (1921-). Victor did not really have a religious upbringing, in contrast to Edith (née Edith Davis), whose father was an ordained Anglican clergyman and her parents were Church Missionary Society missionaries for a time in India. Both Victor and Edith rebelled against religion, and once married they became members of the Communist Party. Victor studied for his PhD in anthropology at the University of Manchester and became a faculty member there. The department had strong left-wing political leanings, so the decision in 1958 by Victor and Edith to join the Roman Catholic Church with their three children was met with surprise and opposition.
Their fieldwork on ritual in what is now Zimbabwe changed the Turner's outlook on religion and the reality of the spiritual realm. The concept of social dramas and his related theories of liminality and communitas would become the center of Victor's work. Non-theistic formulations could not account for what they witnessed, and their questions led them to investigate the Christian faith and Catholicism. Once converted, Victor especially held to a conservative Catholicism. He became an enthusiastic reader of theology, the mystics, and the Bible, whose ideas imbued his publications. Later both became involved in pilgrimage studies. Edith, whose formal education did not match her husband's but who had been involved in his projects at multiple levels, achieved her own prominence. Her academic career actually began in her husband's department at the University of Virginian upon his death. She continued the interest in rituals, especially healing rituals as well as shamanism, reincarnation, and divination. This pluralistic outlook definitely has expanded her appreciation of the spiritual realm beyond Victor's framework and would be contrary to the Catholicism of Mary Douglas.
The Slain God is an informative and fascinating look into the mind and heart of six important figures of British anthropology. Larsen is not averse to critiquing the weaknesses and inconsistencies of each one's beliefs and life choices, but his comments do spur engagement from the reader to not just 'listen in' but interact with the presentation of these persons' views on religion. Behind the intellectual and spiritual biographies of these figures, of course, stand the fundamental issues of the relationship between faith and science. While the testimony of several of these individuals (Evans-Pritchard, Douglas, and the Turners) demonstrate that possessing Christian faith does not contradict scholarly depth and integrity, these chapters also clearly reveal that one's position on such matters is inseparable from personal life experience. A book like this can illumine some current trends, where the 'new atheists' and others try to disallow any importance for the Christian faith in the public square and deem it as intellectually untenable. The Slain God is a reminder that such worldview arrogance is not new, and that the blindness of such folly, as several of these anthropologists would insist, is obvious.
M. Daniel Carroll R., PhD
Distinguished Professor of Old Testament
Denver Seminary
April 2014