The Whole Counsel of God: Why and How to Teach the Entire Bible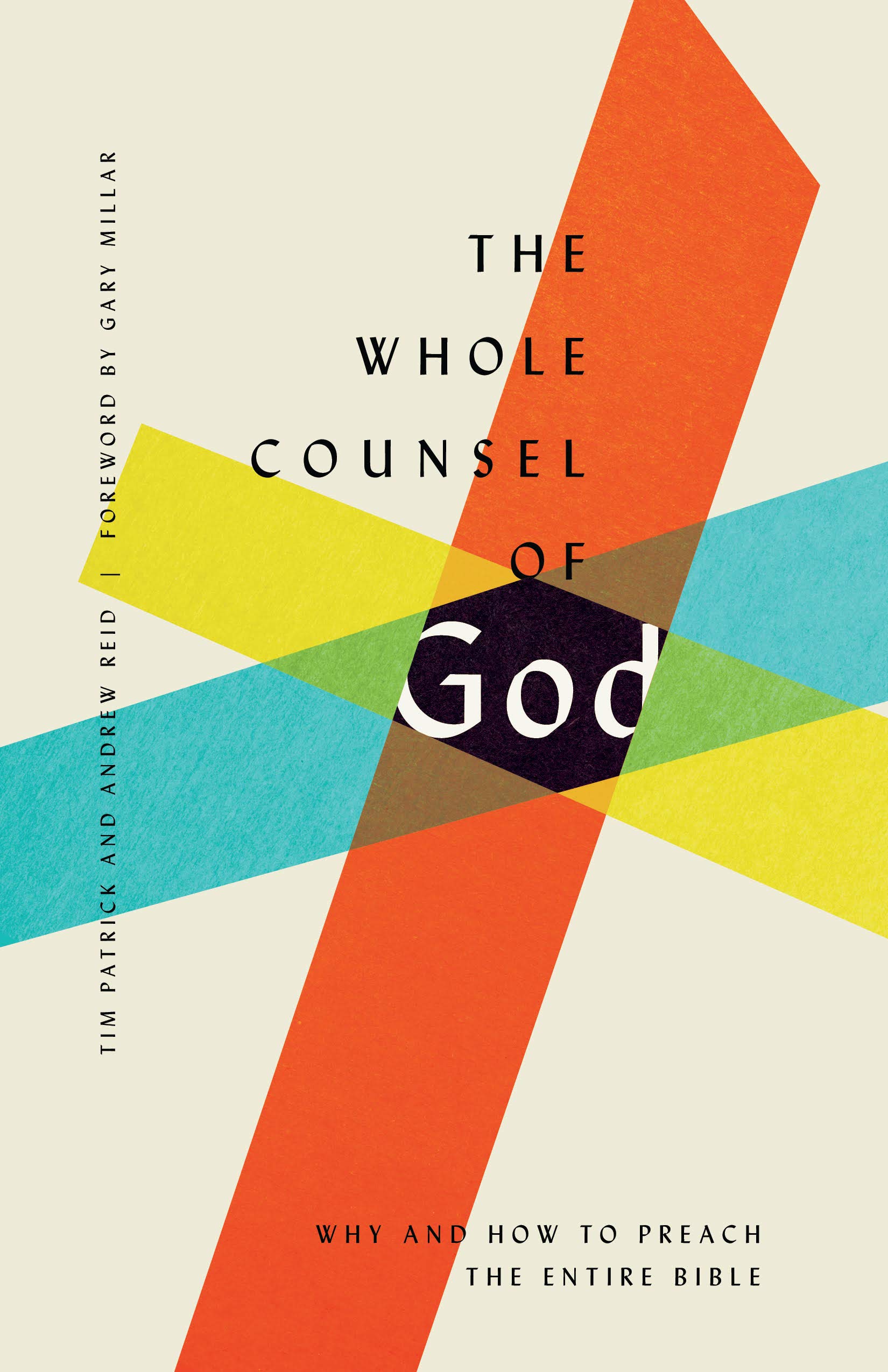 Tim Patrick and Andrew Reid. The Whole Counsel of God: Why and How to Teach the Entire Bible. Crossway: Wheaton, IL 2020. 256 pp. ISBN: 978-1-4335-6007-1, $22.99.
Tim Patrick and Andrew Reid render an excellent work to the church in general and specifically to every preacher who cares about their sacred task of preaching Scripture. Tim Patrick is principal of the Bible College of South Australia. He received his PhD from Macquarie University in Sydney AU and his research areas are English Reformation and eschatology. Andrew Reid serves as principal of the Evangelical Theological College of Asia in Singapore. He pastored numerous churches in Australia and served as lecturer in Old Testament, hermeneutics, and Hebrew at Ridley College Melbourne AU where he received his ThD. He was one of the founding council members of the Gospel Coalition Australia.
The book consists of three divisions, as well as a helpful general/scripture index accompanied by numerous illustrations (tables and charts). Their division focus is: Part 1 (3 chapters) The Importance of Preaching the Whole Bible, Part 2 (5 chapters) How to Preach the Whole Bible, and Part 3 (4 chapters) Practical and Pastoral Considerations. In Part 1 the discussion focuses on several ways that preachers fail to preach the entirety of Scripture and some of the implications of short-changing God's people. In Part 2 the authors provide a schematic for the theological basis for preaching the whole of Scripture and the essentials for designing an extended preaching program. In Part 3 Patrick and Reid explore areas were this challenge (preaching the whole counsel of God) harmonizes with the problems, concerns and duties of the preacher's ministry. Their purpose is twofold, "First, we wish to encourage preachers to make it their goal to preach the entire Bible because we are convinced that all of it is the word of God for us" (p. 22) and "Our second purpose in writing is to present a number of paradigms and very practical helps that should allow most preachers to have a really decent shot at preaching through the entire Bible over long-term ministries to their congregations" (p. 23).
One of the better sections of the book is Consequences of Not Preaching the Whole Bible. Churchgoers who are not taught the Bible in whole: 1) might end up with a practical belief that there is a "canon within the canon" (p. 76), 2) might end up with a narrow or imbalanced theology (p. 77) [the most serious manifestations of an imbalanced theology is a narrow gospel (p. 78)], and 3) might never grasp the overall message and shape of the Scriptures (p. 78). The Challenge they set forth is formidable, but noble – "All vocational preachers should set themselves the goal of preaching through the entire Bible over a thirty-five-year period" (p. 81), but as they state, "There is nothing to be lost in aiming high" (p. 23).
This work is commendable on many levels, it is 1) Scripture-centered, "How can God's people know the fullness of God's word unless it is constantly held up before them and systematically explained to them" (p. 19) 2) Jesus-centered, "If we bring a biblical theological approach to our preaching, Jesus will always be at the center" (p. 107), 3) Gospel-centered, "Because we believe the gospel is present everywhere in the Bible, every sermon should have gospel content" (p. 114), 4) Preaching-centered, "We believe that preaching sermons – expository monologues – is perhaps the single best way to work toward feeding the people of God with the word of God in its entirety" (p. 49), and 5) People-centered, "They should be doing all they can to broaden and deepen their people through the fullest diet of Scripture possible" (p. 120).
While the book has many strengths and moves us in the right direction, there are a few sticking points to consider. First, the authors assert, "Once again, the main reason for being aware of all these categories and categorizations is not to be constrained or controlled (or overwhelmed) by them, but simply to gain an appreciation of the natural affinities of the parts of the Scriptures, and then to be able to think about how those parts should be balanced against one another in a long-term preaching program" (pp. 129-130). In theory one may agree, yet in practice the length they call for is, in fact, overwhelming. Second, the authors argue (as they should) for the understanding and exposition of Scripture's holistic nature – "If we fail to recognize the holistic nature of the whole Bible as we expound any one part, we are also likely to misunderstand that part, because none of the parts makes full sense in isolation from the whole" (p. 88) and "Seriatim [series] expository preaching therefore aims to preach through each book of the Bible while preserving its God-given fullness and shape" (p. 143). When it comes to calendaring their preaching texts (see pp. 172-173; cf. pp. 202-203) it seems that if one only preaches sections of larger books (i.e., Exodus, John) then hearers run the danger of underappreciating the book as a whole, per preaching lectio continua. Third, they state, "Just as we trust that God superintended all of the content of Scripture, so too we believe that he is sovereign over the length of every coherent unit of text. We therefore need to respect Psalms 117 and 119 preaching each as it stands without addition or division" (p. 160). While one can respect Scripture's sovereign length, it seems an argumentum ad absurdum to preach Psalm 119:1-176 in toto – can the preacher really do the text justice? Still, these points do not affect the book's rich content in any way.
While one may not agree with every jot and tittle (Patrick and Reid would not expect you to), I heartily recommend this book. The focus and fervor here should resonate with every preacher, "The core conviction of this book is that it is essential for the people of God to hear as much of the Bible preached as possible" (p. 119). This adds a much-needed emphasis to an oft overlooked area of homiletics. While most evangelical preachers would approve of the goal of preaching the whole counsel of God, how often do we think of long-range sermon planning and the shape of it? If you are not ready to commit to the thirty-five year challenge the authors are calling for and need something a little less overwhelming, you might consider Steven N. Rummage's Planning Your Preaching: A Step-by-Step Guide for Developing a One-Year Preaching Calendar (Kregel Academic & Professional, 2002), thereby covering both ends of the spectrum. A final thought, "It is better to set the course toward our destination and chart it truly for as far as we can go than to not set out at all. It is better to feed our congregations with as much of the word of God as we are able, even if it does not end up that we preach every single chapter and verse ourselves" (p. 240). And all God's people said, "Amen!"
Tony A. Rogers, DMin
Senior Pastor
Southside Baptist Church (Bowie, TX)
January 2021