Timothy Keller: His Spiritual and Intellectual Formation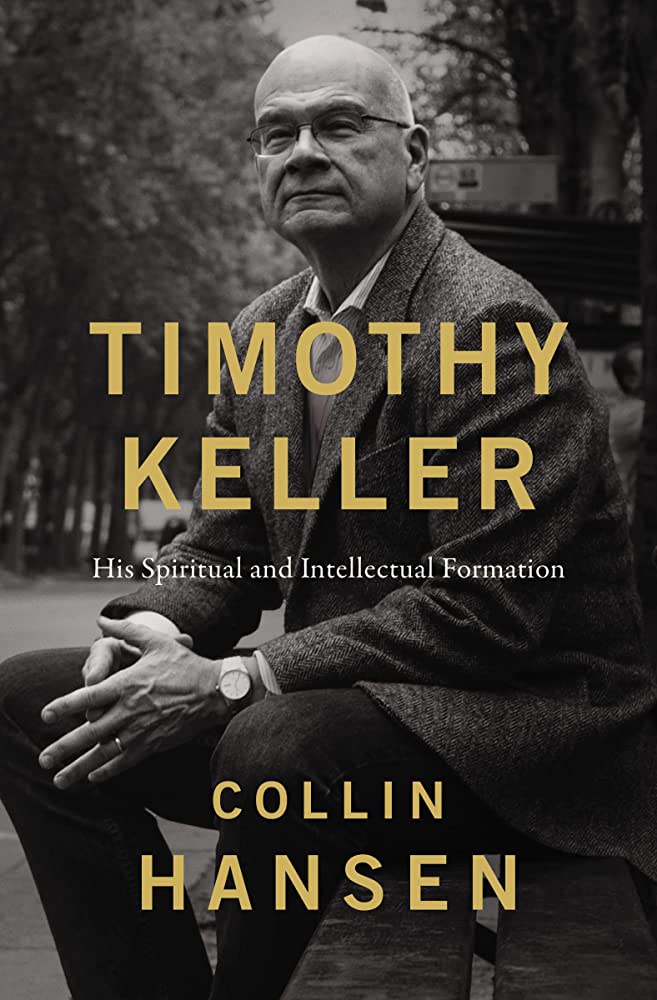 Collin Hansen, Timothy Keller: His Spiritual and Intellectual Formation. Grand Rapids, MI: Zondervan Reflective, 2023. pp. xii, 306. ISBN: 978-0-310-12868-7, $17.99.
In 1989 a mild-mannered homiletics professor left the safe confines of Westminster Theological Seminary in Philadelphia to plant a church in downtown Manhattan. Driven by a desire to reach the 'up and outers' of America's largest urban center, Tim Keller gathered his core, preached the Gospel week in and week out, and over the ensuring thirty-four years became one of Evangelicalism's leading pastors and missionaries. The church Keller started along with his wife, Kathy, Redeemer Presbyterian, became a beacon of light and hope to thousands who never before considered the claims of Christ. Now, after three-plus decades of effective ministry in one of North America's least churched cities, Keller's legacy of faithfulness shines brighter than ever before.
In this recently published biography of Keller, journalist Collin Hansen doesn't so much write about the man but instead focuses on the influences that made Keller a spiritual and pastoral icon for so many of us. There are valuable insights to gained about Keller's background, of course, in his family of origin, his marriage of forty-eight years to Kathy, and his nine-year stint as a pastor in rural Virginia. But Hansen is mostly interested in who and what made Keller a spiritual powerhouse who was an exceptionally effective missionary to the modern inhabitants of the Big Apple. What might seem, at first glance, to be a sympathetic exercise in hagiography turns out to be a delightful tour-de-force of the people, books, mentors, challenges, gifts, and ideas that influenced and impacted Tim Keller over the course of his life.
The book is organized into four parts covering the chronology of Keller's life and ministry. Part I is titled Honest to God, 1950 to 1972, and highlights Keller's childhood, college years, friendship with Kathy, his conversion to Christ and his involvement with Inter-Varsity Christian Fellowship at Bucknell University. Part II, Professors and Peers, surveys the years 1972 to 1975 when the Kellers were students at Gordon-Conwell Seminary outside Boston and their subsequent marriage. Trial By Fire, 1975 to 1989, composes Part III. This section is focused on Keller's ministry in the chemical capital of the South, Hopewell, Virginia, and the transformative impact that Edmund Clowny, President of Westminster, had on Tim as a preacher. Part IV, From Gotham to Globe, chronicles the years from 1989 to the present, centering on Keller's ministry at Redeemer and his expanding global influence via the Gospel Coalition and Redeemer's City to City ministry.
There's a great deal to like about this book because there's so much to admire about Tim Keller. First, he always positioned himself as a bridge-builder to the lost and other Christians. He avoided polemics and consistently stressed our need for God's grace to avoid the twin dangers of antinomianism and legalism. While clearly reformed in his theology, his pastoral ministry was driven by a deep desire for revival. This latter emphasis was acquired from Richard Lovelace, longtime professor of church history at Gordon-Conwell and the author of Dynamics of Spiritual Life (1979), a truly marvelous book and required reading for anyone interested in how revivals come about.
Second, Keller was intellectually eclectic. He loved the Puritans (at least some of them such as John Owens) and yet could teach a graduate level seminar on the works of C.S. Lewis off the top of his head. He had a profound understanding of apologetics and was, perhaps, Evangelicalism's best student of our contemporary intellectual and cultural context. He wrote on the theme of suffering with both insight and pathos, drawing on a variety of sources as well as his own battle with cancer and Kathy's struggles with Crohn's disease. Moreover, his biblical expositions were sterling, both in person from the pulpit as well as those in print such as The Prodigal Prophet: Jonah and the Mystery of God's Mercy (2018). He argued, publicly, that for pastors and preachers to be effective they must draw from a variety of people and diverse traditions. Hansen quotes a conversation that Keller had with D.A. Carson and John Piper in 2014 to make this exact point:
I don't just mean multiple individuals. I think you have to have multiple sources. I would say if you don't appropriate any of the Puritan writers you're missing out. There are some tremendous Puritan writers. But I also know people who only seem to care about the Puritans. They went into the Puritan forest, and they've never come out. It's the only thing they read. And when they speak, and when they preach, they start, "Methinks." I think the fact that you, John, and I have really learned so much both from C.S. Lewis and Jonathan Edwards, two people who almost certainly would not have gotten along, they're so different. I think that has corrected me at a number of places where I get too much into one guy and the other guy comes in and reminds me, "No, he's not the only way" (p. 264).
Third, because Keller learned to root his personal identity in the Gospel he became widely known for his generous orthodoxy. In 2017 he was selected to be the recipient for the Kuyper Prize for Excellence in Reformed Theology and Public Witness at Princeton Seminary. But a cadre of students, faculty, and alumni of PTS stridently protested his selection. In their eyes, his complementarian stance and commitment to the biblical view of sexuality, in this case his unwillingness to affirm homosexuality as viable lifestyle, rendered him untenable. Hansen ironically notes that in mainline seminaries and the broader American culture of 2017, Abraham Kuyper would not have qualified for the award given in his name. Under pressure, the leaders of PTS rescinded the award to Keller and yet invited him to give the lecture. Unbowed by their retraction of the award, Keller did so in brilliant fashion, providing seven steps for churches to follow if they're to effectively evangelize the post-Christian West with the power of the Gospel. Commenting on this episode, Hansen argues that if Keller had snubbed PTS by canceling his talk, he would have gained great attention and support from conservative evangelicals. But Keller chose a better way. As Hansen notes….
[He had] been teaching Christian leaders for years that the gospel offers an alternative to the intolerance of secularism and tribalism of religion. He wrote in Center Church that "the Christian gospel turns people away from both their selfishness and their self-righteousness to serve others in the way that Jesus gave himself for his enemies."' (p. 250).
Personally, I thoroughly enjoyed this book because many of Keller's ministry experiences, intellectual influences, and heart for reaching the lost deeply resonated with some of my greatest blessings as a Christian. Like him, I had a great time serving in Inter-Varsity in college and seeing the lost come to faith. I too was profoundly influenced by John Stott's model of biblical preaching. Lovelace's book, mentioned above, has both stimulated and challenged me since I read it over forty years ago in seminary. I, likewise, am a great lover of C.S. Lewis. And while I'm not a practitioner of Christ-centered preaching like Keller was, the privilege of expositing Scripture before God's people never ceases to thrill and humble me.
As I was finishing this review, the news came over the wire-services that Tim passed from this life and arrived, I'm sure, with great joy in the City of God. With both sadness over his relatively early death and yet gratitude for his life and ministry I want to state how deeply indebted I am to Tim Keller. His model of godliness, his enduring commitment to the truth of the Gospel, and his ministry to believers and unbelievers alike is an inspiration to us all. Moreover, I'm delighted that Collin Hansen spent over three years researching and writing this biography. It's a gift to all who admire Tim, love Jesus and his church and want to see the Gospel make a profound impact on the growing millions of Americans who are far from God. I'm going to recommend this outstanding book as a 'must-read' to my students, friends, and pastoral colleagues. I hope that after reading it you'll do the same.
Scott Wenig
Professor of Applied Theology
Haddon Robinson Chair of Biblical Preaching
Denver Seminary