Using and Enjoying Biblical Greek: Reading the New Testament with Fluency and Devotion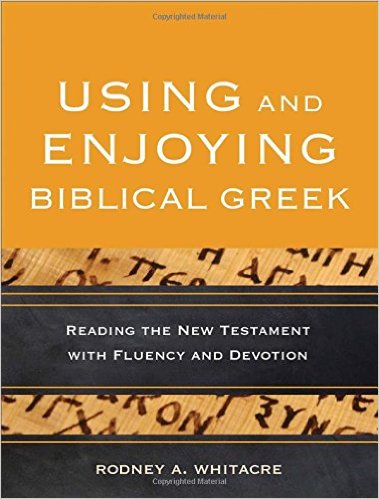 A Denver Journal Review by Denver Seminary Professor Elodie Ballantine Emig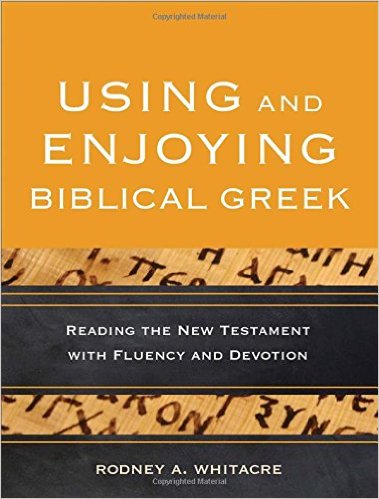 Rodney A. Whitacre, Using and Enjoying Biblical Greek: Reading the New Testament with Fluency and Devotion. Grand Rapids: Baker, 2015. $24.99. xiii + 258 pp. ISBN 978-0-8010-4994-1.
Although the number of how-to-keep-up-your-Greek books is growing, Whitacre's contribution to the subgenre should rise to the top of the stack. He advocates reading large sections of text, and doing so sometimes aloud or rapidly, to gain fluency. The goal he sets is "to feel at home in the text," not just to exegete discrete (often short) passages (p. 5). He loves the Greek language as well as the Bible, and it shows. Along with some helpful review (mostly in "Essential Parsing" and Appendix 4 Core Patterns for Greek Morphology), he includes chapters on acquiring proficiency in Greek and using the Greek Bible and related texts in meditation. There are also good explanations of the "verbal aspect debate" and the middle voice in Appendix 5 that will be particularly helpful to those who are unclear about the difference between aspect and Aktionsart and the current scholarly assessments of "deponent" verbs. Indeed, for those who have been out of seminary for a while, Whitacre covers some must-read material.
As Whitacre notes in his second chapter, "Building Vocabulary," learning words, a necessary element of language acquisition, can be a challenge for some. Seminary students usually learn about 500 words, though there are 5,393 lexemes in the NT (p. 9). Obviously, those wishing to read the NT with anything approaching fluency need a working vocabulary in the 5,000-, not 500-word range. This is a small vocabulary compared to the 35,000+ words most of us know, but still daunting to many adult learners. Whitacre discusses several approaches to vocabulary development (e.g., working with cognate groups or semantic domains) and includes useful charts of noun, adjective and verb suffixes.
"Essential Parsing," as noted above, is a review chapter, moreover a very important review chapter. Whitacre begins with the observation that people who have to look up nearly every word in the texts they are studying will probably not enjoy that study. Such lack of enjoyment probably accounts for a great number of the seminary graduates who abandon the biblical languages after a few years. Along with a decent working vocabulary, a mastery of frequently used paradigms can forestall this abandonment. I heartily agree with Whitacre that "it is worth the effort to get the basics down thoroughly" (p. 23). This chapter, then, lists the several declension and conjugation patterns with rules (e.g., rules of contraction and mute/stop spelling changes) and observations (e.g., roots of verbs are found by looking at the aorist, rather than the present, and neuter singular nominative/accusative perfect participles have an irregular ending) included along the way.
In "Making Sense of Sentences," Whitacre deals with types of sentences, word clusters and clauses, the article (which he unfortunately labels the definite article, even after noting that Greek has no indefinite article), word order, discourse features and emphasis. He concludes the chapter by outlining "three techniques for sorting out a sentence or passage" (p. 88). The first and simplest of these is "chunking," or breaking up a passage with vertical lines into units of thought (p. 95). The second, which he calls "sentence scanning," adds brackets, parentheses, and double underlining to the vertical lines of chunking in an effort to identify "main structures and substructures" (p. 97). The third technique is "sentence mapping," a form of sentence diagramming which preserves the Greek word order, yet, among other things, indicates subordination by indenting words, phrases, clauses etc. under what they modify. His maps are similar to the "grammatical layouts" we teach at Denver Seminary and, for that matter, to the English "structure" outlines found in the Zondervan Exegetical Commentary on the New Testament series. All of these and similar techniques have the potential of enabling the reader to look at a text both carefully and comprehensively. The use of some type of mapping is particularly beneficial to one who is very familiar with the English translation of a Greek text and who therefore might otherwise miss the original emphases and substructures.
Chapter 5 "Gaining Familiarity and Fluency" moves beyond the nuts and bolts of morphology and syntax to reading entire passages in Greek. Whitacre suggests skimming over a passage to determine what is recognizable and, based on that determination, what tools (which he discusses later in the chapter), if any, one will need. Once words are parsed and glossed and tools are put away or turned off, one can begin to read. Alas, many Bible students settle for parsing and translating, but miss the joy of reading. And it is reading that attains and maintains fluency. Read the text more than once, read it aloud, read it fast, read it until it is no longer necessary to supply English glosses "somewhat like a mental interlinear" (p. 111). Whitacre's approach is not for those who want an exegetical nugget or two for a lesson or sermon. He wants to inspire life-long readers, those who are willing to take the time to immerse themselves in whatever text they are studying. For diverse reasons, not everyone is able to commit to fluency in Greek, however, so Whitacre encourages his audience to set and pursue their own goals.
"Utilizing Greek in Meditation" is a chapter on soaking in one particular text or passage. Whether our goal is familiarity or fluency, we read Greek one passage at a time. Meditation frees and focuses us to get as much as we can out of each passage at a time. Even if our goal is simple familiarity, we can become fluent in any passage on which we meditate. We might memorize a passage and use it as a prayer for half an hour or so. We might recite a passage and see what it (the Spirit?) calls to mind over a certain period of time. Whitacre spends a few paragraphs on some patristic (and later) Bible interpretation (e.g., allegory and anagogy) and opines that such "senses" of Scripture can be viewed alongside the grammatical-historical sense. I suspect that in order not to alienate his conservative evangelical readers, he clarifies that each individual should meditate in ways self-identified as "appropriate and helpful" (p.122). Then, later in the chapter, he addresses the question of how "ancient views and practices relate to modern grammatical-historical exegesis" and proposes a hybrid approach (pp. 125-129). One begins with the fruit of grammatical-historical exegesis, but then in meditation explores "how words or images may be taken as references to Christ, the church, and/or the life of discipleship" (p.126). He gently shows that most of us do go beyond the "historical meaning" of Scripture when we apply it cross culturally. This thought provoking chapter ends with a series of written meditations on biblical, and one patristic, texts.
The final chapter is made up of "Practice Passages." Whitacre provides three NT Greek texts, passage scans (see "Making Sense of Sentences" for scans and maps), sentence maps with explanations called "guided tours" and "bonus coverage." The bonus material is comprised of Whitacre's exegetical comments on elements in the text that captured his attention, such as tense shifts, verbal aspect, and word meaning. He considers verbs both in terms of aspect and Aktionsart, which may be disconcerting to some readers, but can be viewed as a true bonus (two approaches to the Greek verbal system rather than just one). It is certainly not necessary to agree with any or all of his exegetical musings and conclusions to endorse his basic approach to the study of individual passages. This I can do without reservation.
The appendices are another of the book's true bonuses. Along with the two mentioned above (4 on morphological patterns and 5 on verbal aspect & Aktionsart and deponency), Whitacre includes an appendix (1) that fleshes out sentence mapping followed by another (2) that supplies a list of labels for annotating maps (e.g., agent, basis, comment and degree). Appendix 3 parses or otherwise identifies the vocabulary of John 3:16-18, the final, sentence-map example in Appendix 1. While it is too much to say that the appendices are worth the price of the book, that readers will definitely not be getting their money's worth if they neglect them may be too little. Whitacre has given us ample reason to spend more of ourselves on reading Greek.
Elodie Ballantine Emig, MA
Instructor of NT Greek
Denver Seminary
June 2016