Zizek: The Graphic Guide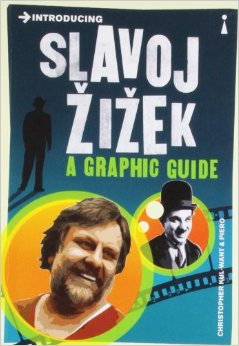 A Denver Journal Review by Denver Seminary Professor Dr. Douglas Groothuis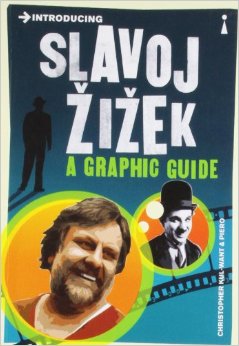 Christopher Kul-Want (author) and Piero (illustrator). Zizek: The Graphic Guide. London: Icon Books, 2011. Paperback. ISBN-10: 1848312938. ISBN-13: 978-1848312937. 176 pages, bibliography and index.
Why read a comic book about a celebrity philosopher, known by some as "the Elvis of philosophy," whose prodigious writings seem to be largely incoherent? One might want to cheat by reading a short, illustrated guide to Zizek, and so pretend to have fathomed his ideas. This would be a mistake and largely a waste of time. Or one could read the book to get some general idea of Zizek's thought and to consider the very form of a graphic guide to a philosopher. This is why I read this brief book. I will consider the book's form before gauging its content.
Zizek: The Graphic Guide is part of a series of titles with the same construction, such as Jung: the Graphic Guide and Capitalism: the Graphic Guide. Each page has some text and one or more images related to the text. Thus, each book has an author and an illustrator. But unlike, say, The Chronicles of Narnia, the illustrations are not occasional graphic accompaniment. They take center stage. This format is not new. Another series using this approach is the For Beginners series, with titles such as Darwin for Beginners. I read this years ago. But, fear not, I almost never consult such hybrids. There are too many real books to read.
On occasion, the illustrations amplify or cleverly highlight the written content. More often, the cartoons are prosaic; sometimes they are pornographic or sacrilegious. The human figures are often hideously ugly, but never Zizek himself, who appears frequently. Although this is not a scholarly book, it attempts to summarize philosophical thought. It includes an index and bibliography, but no endnotes or footnotes. These sorts of books might serve as minimalist primers for broad concepts, such as logic, or for noteworthy thinkers, such as the economist, John Maynard Keynes.
Books of this sort are part of the Zeitgeist, which favors the image over the word. Reading texts, particularly those by philosophers, requires rigorous attention and rational focus. Seeing popular culture images—I leave aside great works of art—is simple; they are items to consume and move on to more images. But we move to the content of the book.
Zizek is not my kind of philosopher. I prize careful and clear analysis of concepts and arguments, which is the method of analytical philosophy. Analytic philosophers, such as Alvin Plantinga, rigorously construct and critique arguments. Continental philosophers interpret society without defining their terms or making clear their argument forms. It is a mysterious hermeneutic that mystifies as it charms the gullible. The writing uses idiosyncratic and esoteric terms. Zizek is firmly planted in this sandy soil. Nevertheless, continental philosophers (emanating from the thickly-larded verbiage of Hegel) are more popular than analytic philosophers. They also sometimes stumble upon significant cultural insights not addressed by most in the analytic tradition. Some of the less preposterous writings of the French philosopher Jean Baudrillard (such as The Transparency of Evil) lie in this category. My evaluation of Zikek is based mostly on the content of this brief book and on the film and book, The Examined Life: Excursions with Contemporary Philosophers (2007). I am not an expert on the philosopher. (I would not want to be. Life is too short.) However, one hopes that the author presented Zizek's basic ideas with some competence.
Marx, Hegel, and Freud provide the moorings for Zizek's philosophy. Jacques Lacan, the French psychoanalyst is his main contemporary muse. The result is a hybrid plant that yields (if the book is to be trusted) the odd fruit of muddy reasoning, eccentric and unfounded judgments, and (when one can understand him) logical contradictions.
As an atheist, Zizek cannot ground his worldview or judgment on anything outside the self and the world. Therefore, his method is dialectical. Dialectical can mean many things—and often nothing. For Zizek it appears to mean that he hunts down paradoxes everywhere and somehow tries to resolve them. As a Hegelian, he tries to find some meaning in the flux of history and modern events. As a Marxist, he, of course, attacks capitalism. As a Freudian, he interprets culture and the self through the hazy lens of the id (unconscious and hedonistic drives), the ego (the controlling factor on the id), and the superego (the sense of morality). Given that there is no empirical or philosophical justification for Freud's categories, they serve as especially poor models for understanding anything.
Somehow in this strange brew, Zizek asserts that there is nothing to the self, besides the self, which is, itself, nothing. Civil law and social structures have no binding address. God does not exist as the absolute authority. There is no abiding self as the center of consciousness: Descartes avers Zizek, was wrong. Thought does not constitute or ground the self. Rather, it is determined by outside forces that do not provide any objective meaning, purpose, or morality. Despite the denial of self, meaning, and morality, Zizek still condemns the Nazis as morally wrong. This is done through an act of self-contradictory exculpation. Few people can live with their own nihilism. They cling to moral meaning in some areas all the while denying it in all areas. Of course, Zizek wants us to reckon his freewheeling judgments as meaningful. As a good communist (a recent book is called Absolute Recoil: Towards A New Foundation Of Dialectical Materialism), Zizek vainly attempts to exonerate the 1917 Communist revolution in Russia revolution and its bloody, totalitarian aftermath. We are assured, it was all based on good intensions. The following communist reign was simply the corruption of a noble origin. Undeniably, this is absurd. Marxism, in all its forms, eschews persuasion for violence, democracy for dictatorship, and citizenship for herd control through systematic lies and armed threat. The seeds of Marxist-Leninism manifested through Stalin resulted in the planned famine in Ukraine. This communist-made catastrophe killed approximately seven million peasant farmers whose only crime was to not relinquish farms to collectivist control.
Besides this atrocity, the Communists killed untold millions of their own citizens, perhaps as many as one hundred million. For the horrible details, see the edited collection, The Black Book of Communism, first published in France. But as Stalin himself said, "A thousand dead is a tragedy. A million dead is a statistic." None of this terror is mentioned in the book, although Zizek may have done it elsewhere. But if he does, the treatment will very likely be twisted and indefensible. No one with any sense of history or philosophy could justify communism in any of its forms. This is especially so if one has read Solzhenitsyn, one of the great men of the twentieth century. This Russian intellectual will be read by millions for decades to come, while Zizek's work will be relegated to a footnote on the absurdities of late twentieth and early twenty-first century continental philosophy.
Zizek has also deconstructed Christianity. He claims that Christianity—and he seems to mean Roman Catholicism—thrives on what it purportedly denies: vice. Since "the church needs sinners," it tells people they are sinners who need redemption from a church that would only exist if they remain sinners. This, I take it, is supposed to be profound. It is not. If the church is preaching the gospel, then it will call sinners to repent, to receive forgiveness, and to endeavor to mortify the flesh and be filled with the Holy Spirit. God will be gloried and this Kingdom will advance. Yes, we will continue to sin; but we are never called to sin (see 1 John 1:8-10). We are called to deny ourselves, to take up our crosses daily, and to follow Jesus Christ (Luke 9:23-24), the crucified and risen Lord of the universe (Colossians 1:15-20). He will put all things under his feet in the end. As the writer of Hebrews proclaims:
In putting everything under them, God left nothing that is not subject to them. Yet at present we do not see everything subject to them. But we do see Jesus, who was made lower than the angels for a little while, now crowned with glory and honor because he suffered death, so that by the grace of God he might taste death for everyone (2:8; see also Luke 26:46-49: Matthew 28:18-20).
When it comes to the Cross of Christ, Zizek moves from preposterous and unstudied error into open blasphemy. He claims that God qua God died on the Cross. Of course, Zizek does not mean this literally, but, I suppose, symbolically. That is, given the death of Christ, the concept of an all-powerful and all-good God is impossible. If Christ was raised from the dead, as Scripture and history affirm, then God has not vanished.
In any event, Zizek's opinions bear no resemblance to the biblical account. They serve as little more than a pretext for Zizek to posit yet another bizarre interpretation. Here is the fresh air of truth about Jesus Christ's work on the Cross for us:
God was reconciling the world to himself in Christ, not counting people's sins against them. And he has committed to us the message of reconciliation (2 Corinthians 5:19).
But, for Zizek, any sense of a transcendent meaning-maker is eliminated. The book's graphic for this idea is that of Zizek on a cross next to Christ on the Cross. This is not humorous; it is blasphemous, since it corrupts the concept of the sacred through the absurd imagery. Zizek did not draw or endorse this graphic. It is likely he would approve of it. If, as Zizek posits, everything is meaningless and deconstructed into nothing, then even blasphemy loses its stigma and sting. It becomes but another amusement for the philosopher (so-called).
The word philosopher means one of who loves wisdom. Historically, philosophers have labored to know what the good life is and how to live it. Christian philosophers have sought to reason through biblical revelation, to defend it rationally, and to give arguments for God's existence, the deity of Christ, and more. Zizek, it appears, is not a philosopher in either the secular or Christian sense. The "logic" he uses is pretzel logic; the life he advocates is nihilism buried in a swamp of coinages; he has no love of wisdom or of anything else, since his categories of explanation are impersonal (Marxist and Freudian), even rendering the self a nullity.
Zizek blows great clouds of smoke everywhere, leaving little light by which to see and little air by which to breathe. To counter all this, I will respond with a magnificent blast of truth from The Westminster Shorter Catechism.
Question. 1. What is the chief end of man?
Answer: Man's chief end is to glorify God, and to enjoy him forever.
Douglas Groothuis, PhD
Professor of Philosophy
Denver Seminary
January 2015